In this post, I buy a reproduction of a painting by Gil Elvgren, and trace some of the history behind it. I also have to modify the painting in order to be able to hang it.
---
I've been a fan of pin-up art for a while now. I think Greg Hildebrandt's art was probably the first thing I got into. And also Olivia De Berardinis (particularly her Bettie Page series), Boris Vallejo, and Luis Royo.
I can't say I am an avid collector, but I have several books of artwork by Olivia and by Luis Royo.
I do remember having a fantasy art poster of a girl and a dragon in my room at University though, which years later I found out was by Greg Hildebrandt.
---
A few years ago I was in Second Life, and stumbled across a post-apocalyptic art installation called Everwinter.
In a dingy shack down by the waterside, surrounded by burned out boats and other fishing ephemera, I found a poster on a wall that caught my eye.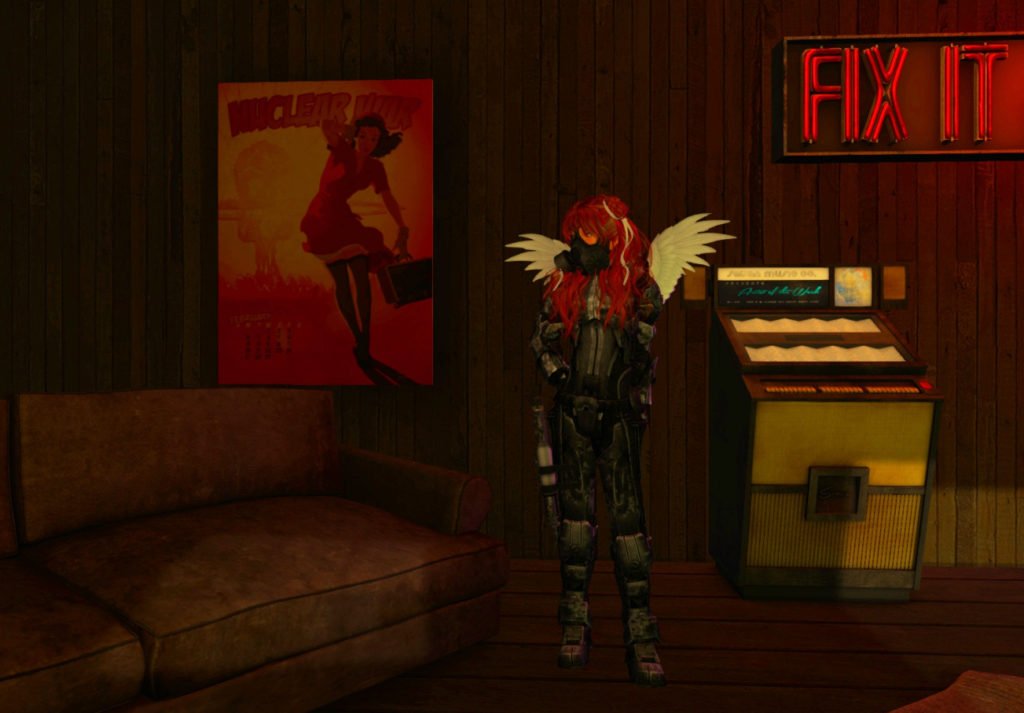 I was curious about the poster, so I took additional close-up pics and then fed them into a reverse image search, and found it to be by Andrew Tarusov from his Apocalypse Tomorrow 2012 series.
I'm not entirely sure how I made the connection, but eventually I discovered that this picture was inspired by "Finders Keepers" (1945) by Gil Elvgren.

According to Wikipedia:
"Gillette Elvgren (March 15, 1914 – February 29, 1980) was an American painter of pin-up girls, advertising and illustration. Best known for his pin-up paintings for Brown & Bigelow, Elvgren studied at the American Academy of Art. He was strongly influenced by the early "pretty girl" illustrators, such as Charles Dana Gibson, Andrew Loomis, and Howard Chandler Christy. Other influences included the Brandywine School founded by Howard Pyle."
I didn't really do anything further about this – I just bookmarked a few links, added a book of his art to one of my Amazon wishlists, but pretty much forgot all about it.
---
Skip forward a few years and, as I mentioned in
a Facebook post
(you do
follow me
on Facebook don't you?), I was in an antiques shop in December 2017 and saw two pictures that I liked. They were modern prints on canvas, and were £25 each.
On both pictures, the lipstick had been augmented with red glitter, which I thought was a nice addition.
I bought the one on the right (and went back a few weeks later and bought the one on the left as well).
Doing a reverse image search on them, I discovered that they too are by Gil Elvgren. The one on the right is "Dampened Doll" (1967) and the one on the left is, as far as I can deduce, from the 1951 Miss Sylvania calender.
I'm a little disappointed that whoever produced them edited out Elvgen's signature. The pictures should look like this: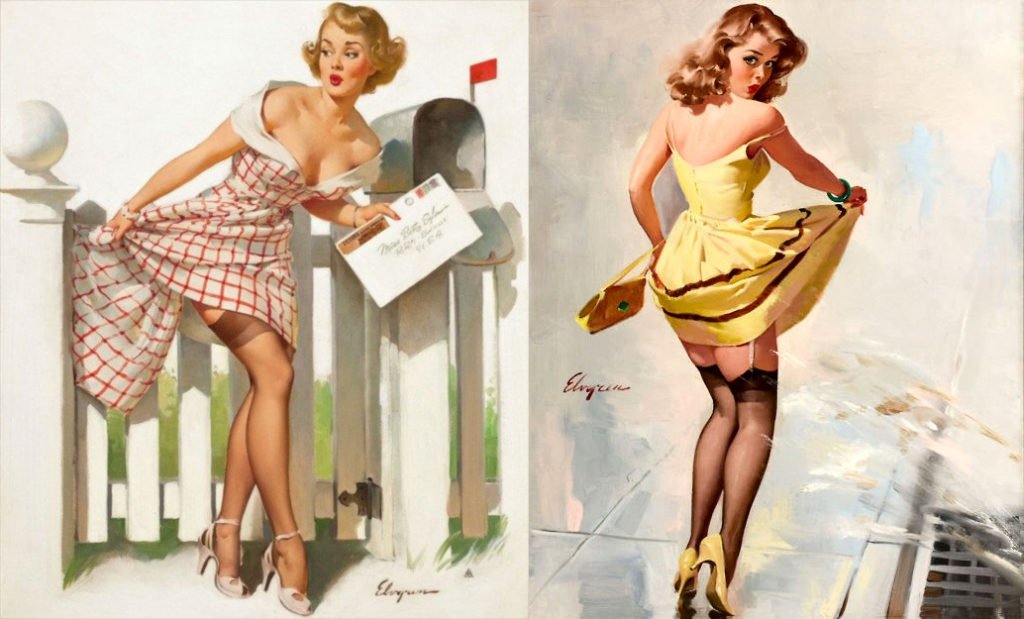 You may have seen these prints on the wall behind me in some of my Flickr pics. For example, this one:
---
Anyway, skip forward another year or so, and last week I went to the big bi-monthly (twice a month) Antiques and Collectables trade fair at Sunbury-on-Thames, which is when I bought the Sheaffer pen I mentioned in
a previous post
.
One of the sellers had a painting that I instantly recognised as being inspired by "Finders Keepers" by Gil Elvgren, as mentioned earlier (see, there was a reason for mentioning all that!)
It was painted fairground-style on plywood, cut out to the shape of the figure. The seller wanted £90 for it, so I initially walked away. But then I came back and walked past it again. Then later on came back again to look at it, and I realised that I really had to buy it; I would be unlikely to get another chance. After a lot of deliberation, I told the seller that it was far more than I wanted to pay, but would he accept £80 for it. He accepted.
I carried it back to the car, wrapped it in a removals blanket, and seatbelted it vertically onto the rear bench seat of the car for transport home.
Once home I took some photos of it
I realised that it had no fixings and that the plywood was only 8mm so was far too thin to screw fixings into. I propped it up overnight whilst I had a think on this, and sought advice from some artist friends.
I decided that what I needed to do was glue an additional piece of wood onto the back – maybe a baton or a square of wood, and then fit fixings to that.
I laid it out on the floor, and immediately noticed a pronounced warp in the plywood. Another reason not to use something as thin as 8mm. I don't know whether it picked up the warp before I bought it, or whether it was due to it being stood up in my warm house.
Fortunately, the warp was inward, rather than outward, so is something that I can live with.
After several dry fit iterations, I decided upon gluing an offcut of 4mm plywood to the back, with a hole drilled in it to accept a screw head, reinforced with a metal hanger.
I didn't feel that I could clamp the wood whilst the wood glue dried as I didn't want to risk damaging the painting, so instead I weighted it, using a big tub of paint and one of my trusty woodland friends.
I let that dry overnight, and then the next day I attached the metal plate with contact adhesive and screws.
I also noticed a small split developing in her arm (you can see it in the pic above), so I filled it with wood glue and then took a wood staple, cut it down so that it was much shorter than 8mm, and very gently tapped it into place to strengthen it.
Once all that was dried (again overnight) I was finally able to hang it.
You'll probably see her cropping up in future self-portraiture of me, although I think I may move her from that wall to somewhere else.
So that was the developing story, unfolded over several years, on Gil Elvgren and "Finders Keepers". I hope the post wasn't too long or boring.