I've not been posting much lately. Not because I haven't been doing much but because I've just been a little lazy with posting. No one thing has been remarkable enough to write a blog post about.
Plus, I'm not convinced anyone actually reads my blog. If anyone does, then it must be only a handful of people. Maybe blogging is a dying art these days.
I recently had my front door replaced, which is something I have been wanting to do for years. Not only does it make the house look so much nicer, but it will also give me a new backdrop for photos. The old front door was so manky that it was frankly embarrassing, and it was also pretty draughty.
It was fitted a few days ago, but I had a small snag list to get sorted so one of the fitters popped back today to do those.
Since I had my makeup on for him coming, I decided to go out after.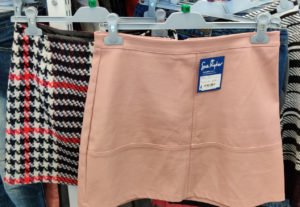 I did my usual trawl of the charity shops in my area and picked up a few items of clothing – I keep telling myself I have way too many clothes – which I do. However, when you see two nice skirts by New Look for £4 and £3.50 respectively, which look like they have been only worn once, then what are you supposed to do? 🙂
After that I moved on to Camberley.
The traffic was pretty bad, as was the queue for the multi-storey car park, and I almost aborted and went home. Inside the car park was particularly bad with a huge queue of cars waiting for one car to do a 2000-point turn into a space, and who was blocking the entire car park by doing so. Some people shouldn't be allowed to have a driving licence. But once they had removed themselves, the queue dissipated fairly quickly and I finally got parked up, and then headed down to the shops.
There was a street market going on in the pedestrianised area of the High Street, with loads of food stalls from all over the world.
There was a Korean Kimchi stall…
There were a couple of guys doing Jamaican spicy sausage with mango relish (man that was good!)…
There was a Dutch cheese seller…
There was a stall with some absolutely humongous paella dishes doing (you've guessed it) paella…
There was also a stall selling Viking drinking horns. Because, well, who doesn't need a Viking drinking horn?
There were also all sorts of other things like a stall selling toffee vodka, another selling various gins, and there was also a South African braai. There was also a chef doing demonstrations, although I only caught the tail end of that.
As you can see from the photos, it was pretty rainy so I popped into Primark and bought a cute clear PVC umbrella with black patent edging. It was cheaply made and only £4, but I thought it was a bit more fun than yet another collapsible compact umbrella.
I also popped into some of the charity shops that Camberley has, but didn't buy any more clothes. I did buy a DVD though, for £1, which I tucked into my handbag (there is a reason I mention this).
I wandered around the various shops in the shopping mall, and one of the shops sold memorabilia and had a life size Lara Croft from the 1990's video games.
Naturally I had to take a selfie with her.
They also had a full size Deadpool, so I had to take some pics with him too. 😀
I couldn't resist getting a bit naughty. I'm sure he would appreciate it. 😉
I carried on going in and out of shops in the mall, but when coming out of one I had a bit of a tumble. You might even say I had "a fall".
As I was coming out, my heel caught a threshold strip and pitched me forwards. I tried to recover but realised I was going down, so did my best to tuck and roll rather than face-planting, and ended up on my arse with my legs in the air (not very dignified, I know). However, during the roll I dropped my handbag and my face impacted with it, and the corner of the DVD case caught me right in the corner of my eye socket (the case jammed rigid between the floor and my eye socket) – I'll be lucky if I don't get a black eye from that. I also managed to scuff the ball of my left hand and also took a small cut to my right hand somehow.
A really nice lady stopped to check I was ok, and talked to me until I regained my composure, which was lovely of her and really restored my faith in humanity.
The really annoying thing is that I wasn't even wearing silly shoes – I was wearing boots with a 6cm (just under 2.5″) block heel. The shop is probably liable for that trip hazard, but I'm not the sort of person to blame my misfortune on others so I have no intention of pursuing it.
I carried on going into shops after this, but really my heart wasn't in it now and I wanted to go home. Besides, I felt like I'd done everything I wanted to do anyway. So I made my way back to the car.
There was a huge queue for the payment machines down at ground level, so as I usually do, I went up to the parking level and used the machine there which only had a queue of two people. I never understand why more people don't do that, although I'm glad they don't.
The car park is a numberplate recognition system, where you have to type in your numberplate (there is no ticket or token), and it said it couldn't find it. I had to go through umpteen menus, entering the day and time of arrival, acutely aware of people behind me, before it finally allowed me to pay. But everyone was really nice and sympathetic when I turned and apologised to them all.
Then it was back to the car, and home, via Tesco Express to buy dinner, and then into the warm and dry via my new front door.
Update:
Now that have got my makeup off, I can see that I have a mark under my eye but I might be lucky over getting a black eye – I guess I will find out tomorrow.
I do have a nasty bruise on my left upper arm though.