It's been well over a month (6 weeks, in fact) since I last posted, and a few people have asked me what I have been up to and said that I should post it on a blog post. I confess that I have been wary of turning this blog into a "Dear Diary" one which is why I have held off a little.
So, what have I been up to since my last post?
For quite a while now, I've been rather 'treading water' in my house. I've bought the odd picture here and there, the odd houseplant here and there, have moved various items of furniture around, but haven't made any really major changes since my divorce.
Over the past few years, as I have embraced all facets of myself, I've come to realise how much I love Art Nouveau and the whole vintage aesthetic. I also have come to appreciate Shabby Chic, whimsy, and quite a feminine vibe. It started with a few little trinkets and accessories around the house here and there, and then recently has coalesced into a grand plan for my bedroom.
The plan, which is already well-progressed, is to move the heavy antique pine furniture in my bedroom into the back bedroom, where the wardrobes from the same set already are, to end up with all pieces from the set in the same room. It should make for a really nice themed guest room. Who knows, maybe I might even have some guests over to enjoy it.
That leaves my own bedroom, and the plan is to go for a rustic sort-of Shabby Chic look but without going all the way to half-broken mismatched furniture. So a sort of "Shabbyish Chic". 😀
I've been keeping my eyes open for suitable furniture and finally found what I think to be ideal in a branch of What Not Antiques. It's a bedroom furniture set called Claremont that is made from solid reclaimed timber in a rustic style. Unlike true Shabby Chic, everything matches, but this is what I want.
Funnily enough, just after I bought the Claremont items I was in House of Fraser and saw a very similarly styled chest of drawers to the 7-drawer low & wide one. However, unlike the one I had just bought, this was all smooth melamine-faced board with smooth drawer runners and shiny handles, and completely lacked any character. And, ironically, it wasn't a huge amount cheaper either. So although what I have bought is fairly expensive, I'm really pleased with it. It also comes with an extremely comprehensive insurance-based 5-year warranty which even covers it for having a glass of red wine spilled down it – if they can't remove the stain they'll replace the item.
I don't want everything to be matching, though – I felt that would be just too much. I envisaged the bed being a metal-framed one, possibly in a Victorian wrought iron style – perhaps black with brass detailing. Benson's for Beds had something sort-of suitable and, better yet, it was in their sale for £199 rather than the usual price of twice that. For the price, it was ok. However, I really had my heart set on something antique with some character and on Saturday I found just that at Victorian Dreams, which is a company based in Hampshire who specialise in sourcing and restoring antique beds. Although the prices were way outside what I was planning on spending, I found the most awesome bed with the help of the owner of the shop, and she gave me a good discount to help me afford it too. The bed dates from the early 1900's and is apparently Portuguese in origin, and I'm so excited about how it's going to fit in with the style that I have chosen.
The plan is to have the low, wide, chest of drawers across the foot of the bed, which is why a high foot was quite important to me. By my measurements the top of the chest should come to exactly the base of the vase on the bed, which is ideal.
Whilst this has been going on, I've been visiting various Antiques and Collectables fairs around the Hampshire, Berkshire and Surrey area, ranging from small village halls to large Sports Halls, looking for things to complement the look I'm going for. There are probably too many to mention here but notable purchases include a gorgeous Tiffany-style butterfly lamp and a mirror featuring artwork by Alphonse Mucha. I also bought a cheap table lamp also in a Tiffany style to use as a bedside lamp.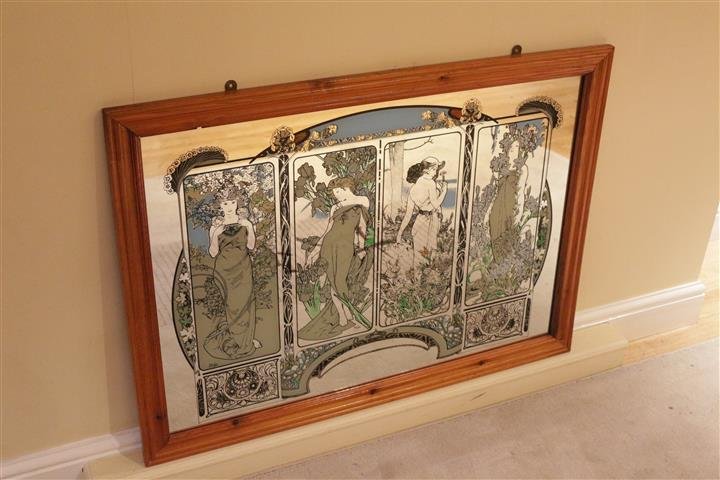 At one show I bumped into Amita Vetta of Love That Jewellery again, who was the person selling the Charles Horner necklace that I mentioned in a previous post. I bought a lovely earring and bracelet set off her, and was chatting to her about the Charles Horner necklace but it was quite clear she didn't remember me. It was only when I got home that I realised that I was in guy mode this time and that I had chatted to her in girl mode originally. No wonder she didn't recognise me!
A few weeks later I was at another fair and she was at that one too, and I was in guy mode again, so I went up to her and she instantly recognised me. I explained the situation and it was like a light bulb came on over her head and there was a look of relief on her face. She said she did remember the conversation and that I had been wearing a really lovely necklace when we'd been talking about the Charles Horner one, which indeed I had.
The thing that I found the most nice is that she totally took it in her stride and didn't so much as bat an eyelid over the concept. How wonderful! I think it is yet more evidence that Society as a whole (the decent members thereof, at least) are much more tolerant to transgenderism these days.
Another purchase was a gorgeous mirror, although with the design of the room starting to mutate out of Shabby Chic and towards a more vintage bronze look (what with the Tiffany-style lamps, the bed, the handles on the furniture, and one of the candidates for the chandelier light fittings I'm considering), I'm starting to be concerned that it still fits. But I really like it so I think it will stay.
The furniture and the bed both arrive next weekend, and once installed there will be a little more still to do, but I will be sure to post pics when it's all done. I'm not planning to re-decorate or re-carpet, but I do want to fit some coving to soften the feel of the room and make it less boxy.
Not only have I been pretty remiss on this blog, but I've also been remiss on going out in girl mode and taking pics for my Flickr. I think I've only done it once or twice since my last blog post. I'm at the stage right now where it is no big deal whether I do or don't. Much as I love the clothes and jewellery of girl mode, it is a complete palaver and if I'm absolutely honest, after a long week at work I can't really be bothered on a weekend. Especially in the cold weather we've been having, I just like to dress up warm and comfortable, and I can do that much more easily in guy mode than girl mode. There may also be some confidence issues too, but I think it is more down to the fact that warm clothing doesn't really flatter any woman, although I do think I look particularly chunky in my more recent pics even though I've put no more than 5lbs back on. That's well on the way to coming off again though, so perhaps by the time Spring comes I will be in a place where I want to resume.
I recently got to a stage where I considered stopping buying any more dangling earrings because I think I probably buy them more often than I wear them! So I told myself that I had two options – either stop buying them and start wearing what I have, or else say that I am collecting them. So, a Collector of Nice Earrings I now am. 🙂
I will have to photograph them all and make a static gallery-style page on this blog, I think. Something to do one day.