Eagle-eyed readers may have noticed from my recent Flickr pics that I have a new car, and that I have also published a pic of me wearing a crash helmet in the car.
So, since I haven't blogged for a while, and since several people have asked me for more information, I thought I should tell you a bit more.
---
I like cars. I always have. I grew up with them, as my dad was (and still is) a car enthusiast. He took driving very seriously, and impressed upon me that passing your driving test is just the start, not the end, of learning to drive. Since then I have done a lot of additional driver training – the Institute of Advanced Motorists, personal tuition with Ride Drive Advanced Driver Training, handling courses, and track day tuition.
I'm no stranger to the track day scene, and over the years have become friends with Melindi Scott of Gold Track. In fact, you might recall that last year I popped down to Thruxton just to hang out with her for the day.
This time I had a car that was quiet enough for Thruxton circuit's noise limits, and performant enough to be worth taking on track, so I asked Melindi if she had any spaces left, and she did, so a booking was promptly made.
My old open face helmet was way past its expiry date, so I needed a new helmet. I decided this time on a full face one, not least because an open face gives me Hamster Cheeks. I stuck with Sparco like my old one, mainly because I have a Sparco-branded helmet bag. I went for their cheap Club X1 which I bought from Demon Tweeks.
My biggest concern for wearing a helmet in girl mode was my wig. Would it get damaged when wearing the helmet? Would taking off my helmet pull my wig off too? How would I cope with this? Would I "out" myself every time I took my helmet off?
It was with some nervousness that I tried it on for the first time, once it arrived. I chose one of my older wigs – the one that was on its last legs and that I had had trimmed at Beesely Wigs earlier in the year. As it turned out, I need not have worried; pulling the helmet off left the wig in place, which was an absolutely huge relief.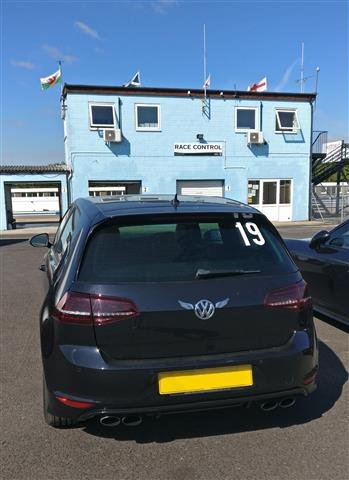 The day of the track day soon came around, and I set off in good time and had an uneventful journey, stopping at the Shell garage just past Andover to top the tank off with Shell V-Power Super Unleaded.
The first thing to do upon arriving, after going up to Race Control, seeing Melindi, signing in, etc., was to get my car noise tested since Thruxton has a strict 90bB noise limit (despite being a working airfield!)
As is the usual, the marshal asked me the car's maximum revs, and then told me what revs to hold whilst he measured the noise, then said "ok, that's fine". So I asked what the noise level was and he laughed and said "Let's just say that if you had turned the radio on, it would have been louder". When pressed, he said it had been 73dB, which is pretty damn quiet.
So it was now time to get my helmet on, and head out onto the track.
I know Thruxton well, but obviously every car is different and this was my first time out in this car, so I took it easy to start with, but confidence soon grew. I was watching the temperatures like a hawk, including extra info coming in from an OBD-II dongle with the excellent Torque Pro app for Android, but everything was looking good. The car behaved brilliantly, shuffling power around the 4WD system to give me great traction. After a while my confidence grew to the point where I was really leaning on the brakes in the final corner before the Club chicane (see map below), to the point where the front tyres were chirping on the edge of lockup – the ABS system is nicely balanced in Race setting and not overly intrusive. A lot of road cars with ABS tend to have it cut in way too early, but this was just right – brakes are at their most efficient when the tyres are right on the point of locking up with a small amount of slip. Likewise the stability control was well balanced and unintrusive.
Jen of Fresh Orange Photography was there, taking photos. I've met her several times before and she recognised me from when I had been there a year ago hanging out with Melindi and she took some great photos, including these two (which I reproduce with permission).
I spent some time chatting with Melindi, and then asked if her instructor Scot was available for a session. I was a little nervous about asking this as I've been out with Scot before but in guy mode, but since it was a different car I thought I would just style it out and act as if we hadn't met before. But as it turns out, he did remember me, and commented on previous sessions we'd had in the past such as the fun time we'd had in my old Suzuki Swift Sport Mk1 in the wet, but made no comment on the fact that I looked so different.
I asked Melindi about this afterwards, and we came to the conclusion that as an instructor he probably rarely looks at (or remembers) faces, and instead driving style, voice, etc. are the things he probably remembers people by and of course that was unchanged. So that was nice.
We had a good session, with him pointing out where I could go faster, and where I was good and where I was weaker. At the end of the Woodham Hill straight at the start the Club chicane I was braking in a straight line before turning in, which meant I had to come back on the power for a squirt before the chicane, whereas he wanted me to brake round the bend so that I arrived at the chicane at the right speed. I never did get that right as braking in a straight line is so ingrained for me. He also wanted me almost flat through Church which I was never quite brave enough for.
Each time I returned to the pits, I had to take my helmet off, of course. The first time I held the bottom of my hair with one hand whilst struggling to pull the helmet off one-handed, but it soon became clear that the wig would happily stay on by itself, so I was able to start removing the helmet with both hands as normal. Of course I ended up with wild hair each time but a hairbrush soon sorted that out. And, no, I am not going to show you a photo of that. LOL
After lunch I decided to play around with shooting some video with my GoPro camera (shown in the pic of me). Unfortunately, despite doing all my preparation and packing everything, I had come out without half of the mounting arms but I did manage to rig something up with a long arm that I had with me and it actually worked quite well.
Unfortunately, though, the microphone I had brought with me suffered from terrible clicking / popping and made the footage pretty much unusable so that was a shame.
The weather was lovely, and I had worn a fairly short dress by SuperDry. I did wonder if maybe I'd made a poor choice though, as several times the wind flipped my skirt up Marilyn Monroe style and I'm sure I flashed my knickers several times. Still, never mind eh?

Towards the end of the day, I was getting critically low on fuel, and my tyres were starting to go off, and were also worryingly melty.

I toyed with the idea of leaving, gassing up, and returning, but Calum Lockie suggested that "just one more lap" is the time when most people crash out. Besides, it would be a good 40 min round trip to the nearest petrol station and back, so instead I just hung around and chatted until it was time to pack up and go home.
But before going, Melindi and I had to take a selfie as this is now almost traditional. This time Dave wasn't around to photo bomb us but we managed to get a nice pic of the two of us.
And that was my day. A huge thank you to Melindi, Calum, Scot, and all the staff at Gold Track for a brilliant track day (as usual), all the staff and marshals at Thruxton, and to Jen of Fresh Orange photography for the great photos and allowing me to use them.
I made it to the petrol station without problems, then set the car to Eco mode, activated the Adaptive Cruise Control, and cruised home up the M3 getting rather better fuel economy than I had on track.