This is Part 3 of my trip away for the Bank Holiday weekend, which included front row VIP tickets to Caro Emerald's 2017 UK "Emerald Island" tour and also a gig by my best friend Claire's band Iconic at Lady of the Lake in Lowestoft
In Part 1 I told you about my journey there, and in Part 2 I covered the Caro Emerald gig.
Now for the rest of the weekend.
I had a good night's sleep in Claire's daughter's awesome My Little Pony themed bedroom, and woke at around 8.30am, laying there for a while pondering life presenting as female full time, how I would have to go shave, do my make-up, then choose an outfit (I certainly had enough to choose from with my large case), attach my breast forms, brush out my wig and put it on, choose my jewellery, and generally look nice. I pondered if I could really do that every single day – in the sense of permanently, rather than just for the weekend I mean. Although I've had a lot of laser hair removal, I still have to shave every time I present as "real me", and I need to wear a lot of full coverage foundation to cover the blue tinge of my dark facial hair round my chin and upper lip. I think that if I didn't have to do those two then it would be a lot easier. Perhaps when funds allow I will recommence laser and maybe have some electrolysis too.
Anyway, pondering aside, I did all the above, choosing a cute tartan (plaid) skirt and Per Una top.
Claire's hubby Gary had to go to work, so we had the kids and it was easier to have a relaxing stay-at-home day than to try to gather them all up for a day out.
We had a really nice relaxing day. I watched some of Season 5 of My Little Pony: Friendship is Magic with Claire's daughter, as I haven't seen some of Season 5 yet and she is of the age where she can happily watch them again and again.
At one point, Claire decided to get out her jewellery-making kit stuff and make me a bestie bracelet. It is utterly awesome.
Claire's mum popped over in the day, and she complimented me on my skirt, which was really nice. The funny thing is that I had originally bought a shorter version of it for a photo shoot, not been sure it was what I wanted, sent it back, and then bought the longer version as something I might actually wear. So it was really nice for that decision to be validated.
What was even nicer was a comment that Claire told me about subsequently (and I hope neither of them will mind me saying this) – apparently her mum had told her that if she hadn't have known I was TG she would never have guessed. It was so nice to learn that!
The day just seemed to fly by, with lots of coffee drunk and lots of nattering done.
We also messed around with Snapchat and YouCam Fun with our phones.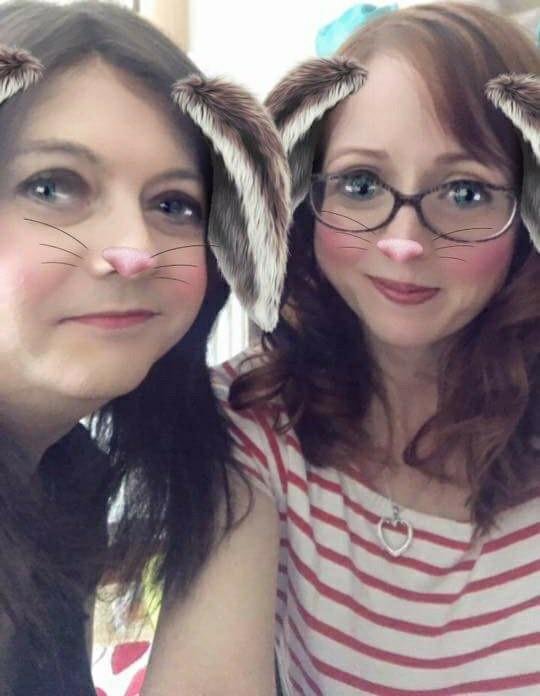 Later on, Gary got home, we had dinner, and then settled down to watch a film. We watched Death Note which is a film I haven't seen before but they like. It was fun, although slightly odd. 🙂
Then it was time for bed.
As I was getting undressed I snagged my bestie bracelet and a link broke open.
I didn't have such a good night's sleep that night, partly because the landing light was on and the bedrooms in this house have window panes above the doors. I'm a light sleeper, and I find that too much light makes it really hard for me to sleep. 🙁
Sunday morning was much like Saturday morning, with us electing to stay at home and relax in preparation for Claire's band's gig later that day.
Claire repaired my bestie bracelet for me, but later on in the day it snapped again, so she is going to remake it for me with a stronger chain.
We spent some time going through clothes and talking about make-up and stuff, then we started getting ready for the gig.
I chose a cold shoulder top with lace-up front I had bought on eBay a week or so earlier. The skirt I had intended to wear with it didn't work but fortunately another skirt I had brought with me did – it looked like lugging that huge heavy case had paid off after all. I paired it with black tights and my knee length boots, and a bolero shrug for a little warmth on the cold shoulders, but which was small enough that I could stuff it in my handbag when it got warm, and I was pretty pleased with the effect, especially after I had put on heavier "going out out" make-up.
Claire chose a gorgeous white lace top, which looked lovely on her.
After dinner, we headed over to the Lady of the Lake. Since I didn't have my car with me, I went down with Claire so had to twiddle my thumbs a bit whilst the band set up, but I helped out where I could and when I couldn't help I just surfed the internet on my phone. My current phone has really good battery life, and I also had two battery power banks in my handbag for recharging. I had no intention of repeating the issue I had the first time I did this last year.
The doors were then opened and the function room filled up fast. Then the band started. They were absolutely brilliant as you can see from this video.
I started off sitting at the back at a table, but I realised that I looked like someone's boring mum like that and stood up and joined in a bit more. A guy came up to me and said something along the lines that I was denying everyone my company by being back there, to which I smiled and blushed a little. He then said he'd leave me be, but then danced with his back to the stage, looking straight at me and making "come on" gestures across the room and I blushed deeply and coyly – think Lady Diana in her early days. Then he came back and asked if he could buy me a drink. I smiled and thanked him but declined. He was rather cute, but I was sober, teetotal, I don't dance very well, and I just didn't have the confidence to accept. But it was a real confidence boost and very flattering.
The dance floor was absolutely heaving for much of the set, and everyone was having a great time and really joining in. It was a great night. It thinned out a little towards the end (I think perhaps people headed off to clubs?), although still loads of people, and then around midnight the band finished (after the obligatory "we're pretending to finish now" followed by a few encores, of course).
During the set I took some photos, and also some video. I wasn't the only one, as ex band member Mark was also doing so. As it turned out, my phone captured better quality video but the microphone was overloaded by the sound and the footage was unusable, whilst Mark's phone captured the sound but had arguably poorer picture quality. It's his footage that was predominantly used in the video montage above.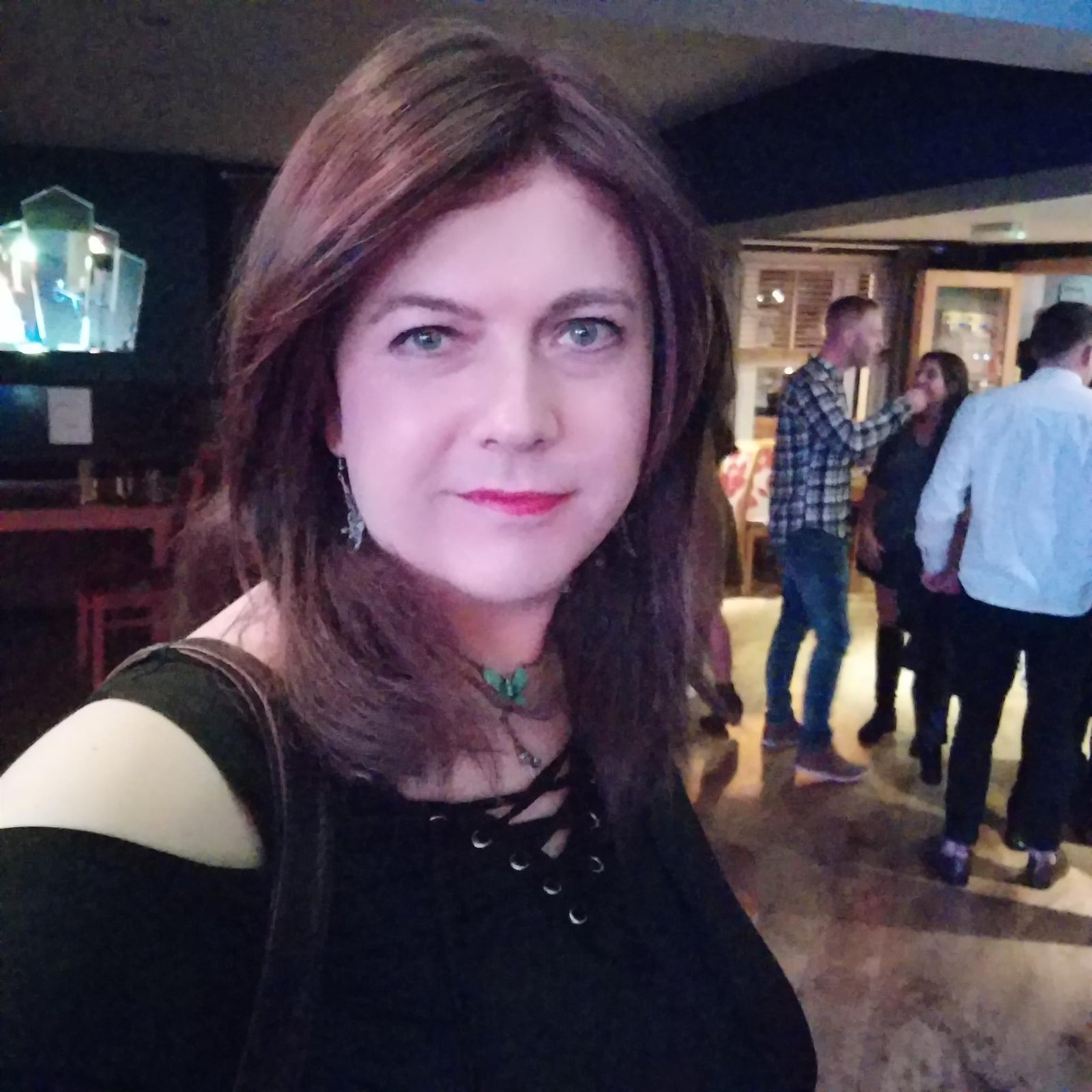 After the gig ended, and people started drifting away, I managed to take a nice selfie, and then helped the band pack away, since the sooner we packed away the sooner we could all go home.
With their new line-up, new kit, and more efficient pack down, it took far less time than it did last year.
I don't recall what time we got home but it wasn't ultra-late. 1am maybe?
I didn't stay up too late once we got home, and went to bed shortly after. I slept so much better that night, in part because I asked if we could possibly have the landing light off for that night and that helped enormously.
The next day Gary went to work, so we were without the car and without anyone to look after the kids, so we had another relaxing morning at home. We chatted a lot, went though the photos and videos of the gig, drank lots of coffee, and the like. We then walked down to the shops and back to get some stuff for lunch. The sun was out and it was a pleasant walk.
All too soon the time for my train departure drew close, so I packed my case and humped it downstairs, already not looking forward to travelling home with it.
It had been a lovely few days, and neither of us wanted it to end, but all good things have to end. At least it was only for now – we'll be seeing each other again soon.
In the final part of this series I'll cover the journey home, so tune in next time for the conclusion. 🙂