On Monday I took the day off in order to go to a big Antiques & Collectors Fair at Newbury Racecourse. It's something I have wanted to do for a while, as week-day events tend to be bigger and are often more trade-focussed.
Pricing was such that 8am to 10am was £10, and 10am onwards was £5. Although there was a real risk of some of the best stuff having been sold by 10am, I elected to aim for that time especially as it would allow me to set off a little later and therefore miss the worst of the traffic.
My journey up to Newbury wasn't too bad, but as soon as I got into Newbury itself I remembered why I tend not to go there if I can help it, and why the Newbury Bypass was so desperately needed. Traffic got progressively worse until the final mile or two, which was then solid. It turned out that there were roadworks with temporary 3-way traffic lights right slap bang outside the entrance to the Race Course!
Once parked up, I made my way on-site. I'm not really sure what I was expecting – something like some of the shows I have seen on Bargain Hunt, I guess – namely an Exhibition Centre with loads of indoor stalls selling jewellery, pottery, ceramics, art, etc., and a large outdoor area with loads of furniture and the like. I was half right – it was *all* outdoor and seemed to be a cross between a Car Boot Sale, an Outdoor Market, and a Rugby scrum. It was laid out along a tarmac apron in front of the main Grandstand, then continued on to another smaller tarmacked area, then onto grass and hardcore, and finally onto an area adjacent to a building site that was grass with a hardcore path. It went on for quite a way.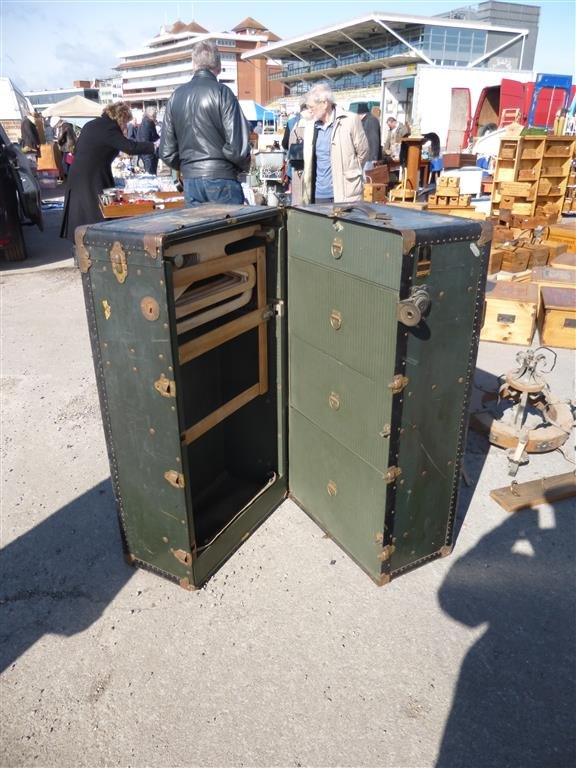 There was certainly an eclectic mix on offer, covering all sorts of ages from new to very old, and from very good condition to shockingly poor, and everything in between. However, I really struggled to find things that I wanted to buy. It was very interesting looking at everything though.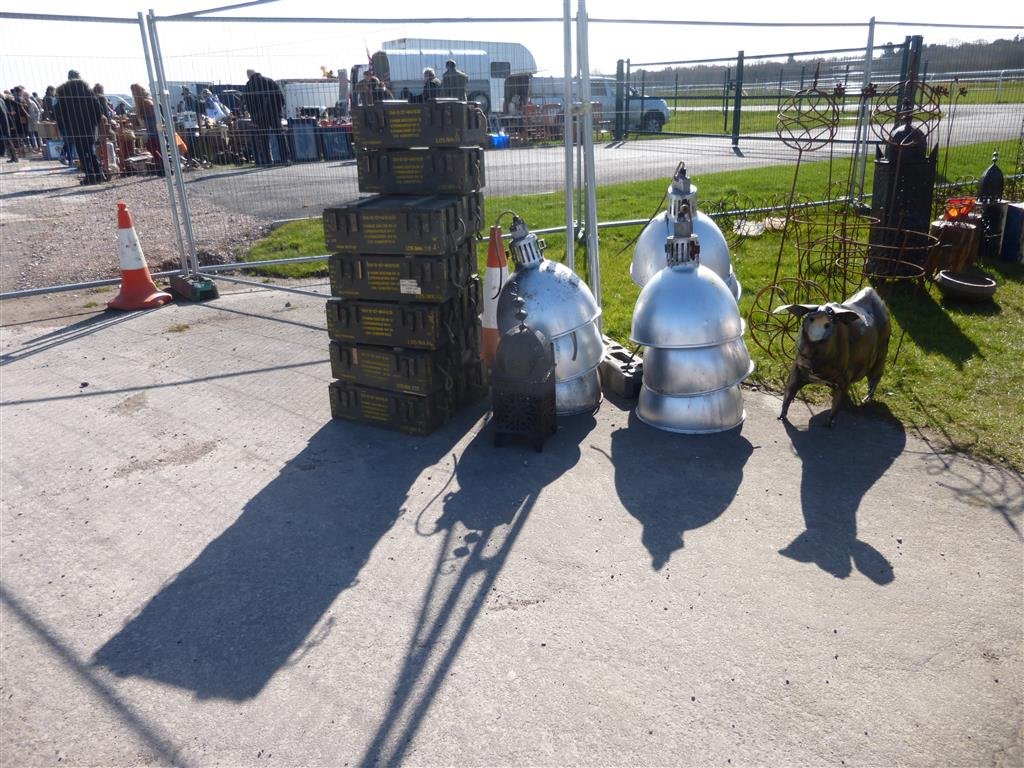 There were sellers from all over the country, and indeed the continent. I overheard one seller saying he was over from Holland, and many of the sellers' vans and cars had European number plates.
One seller had a stack of wooden ammo boxes with German writing on them (pictured). Googling for what was written on them showed they were for German DM-31 and DM-11 land mines, and DM-56 fuses, which are modern ordnance. The boxes certainly looked pretty new. I couldn't really see any value in them for myself, but they were interesting.
They weren't the only Militaria there – there was quite a lot of military surplus including some very recent-looking British Army kit. And, of course, the usual array of swords, bayonets, muskets, medals, uniforms, and the like. One seller had what looked like a WW1 Lewis Gun, which is not something I have seen before; the usual machine gun you see for sale is the WW2 Bren.
It was a bit of a oddity though as it was lacking its cooling shroud, but it had a bipod and a flared end on the barrel, and also had a stock. It also looked rather black and shiny like it had a coat of enamel on it. Certainly didn't look right.
Another thing to catch my eye was a rather "used" hard hat diving helmet (pictured).
I didn't even ask what the price was as it didn't really hold any interest to me. I did wonder what the story behind it was though.
I was starting to get concerned that I would even make a purchase by this point. But then I came upon a stall selling sea shells, geological stones, and other whimsy, which was exactly what I was looking for in order to accessorise the driftwood shelf in the downstairs cloakroom.
I managed to bag an unpolished geode for £7 and a collection of shells for £10, all of which I photographed when I got home (pictured).
I think I did ok on price, because some of the shells were individually priced at around £4 each, although others didn't have prices, and the geode was priced at £10 until I haggled a little, so £17 for everything seemed fair. I'm really pleased with them.
I finally got to the far end of the stalls, and started walking back. Up until now the weather had been lovely – brisk, but clear with nice sunshine (as you can see from some of the earlier pictures). However, the weather was starting to close in by now and rain was definitely in the air.
I'd spied a collection of railway signs on my way down the line of stalls, so on my way back I looked out for them again and enquired as to the price on one I liked (pictured). The seller wanted £25 for it, and I asked if he'd take £20. He said he could sell them all day long for £25 but he would split the difference at £22.50 which I accepted. So I got out my purse, pulled out a £20 note, and then looked in the coin area, eventually tipping it all out into my hand, and it was clear that there was less than £2.50 there. There was a £1 coin, a few 20p pieces, and some other loose change. The seller said that he'd take all the shrapnel plus the £20 note, which seemed fair to me. He then wished me well carrying it as it was heavy. He wasn't kidding! When I got it home and weighed it, it turned out to be 6kg! That's around 13lb in old money.
I decided that this was probably a good time to return to the car. But I then passed a stall selling a variety of lamps and shades, and I spied a Tiffany-style hanging pendant lamp with chain and brass fittings (pictured). It didn't look that old and there was a small crack on one of the panes, but I asked the seller what his best price was. "£10 if you like it, and £15 if you don't" he replied, so I laughed and said that I liked it and gave him a tenner. Again, I photographed this one when I got home.
There were spits of rain coming down by now, and I decided I had given the place a very thorough sweep and also the cast iron railway sign was starting to feel more like 12kg than 6kg, so it was time to go.
Walking back to the car park I immediately saw, with dismay, that it was absolutely grid-locked with cars trying to get out. I got back to the car, loaded up, and eased myself into the flow. Well, I say flow, but I didn't move an inch for the first 10 mins and it was a good 40 mins before I made it the 100 metres or so to the exit from where I was parked. The problem was the 3-way temporary traffic lights that I mentioned earlier, which were only letting a few cars out each time. And, also, cars from all parts of the car park trying to join the queue to get out was adding to the gridlock, as they were blocking cars from trying to enter, which was in turn preventing cars from flowing through the traffic lights properly. Classic definition of gridlock and an absolute nightmare. They should have turned off the traffic lights and had people directing traffic by hand I think.
Then, after I'd got out of there and joined the main roads, I very quickly ran into another awful queue of traffic, this time due to a car having broken down on the entrance to a roundabout causing two lanes to merge into one to try to get round them. Again, traffic chaos. In the end it was over an hour between getting into the car and finally getting out of Newbury. I don't think I will be going back there for a while.
Newbury is only 10 miles or so from Hungerford, which has many Antiques and Collectables shops and I have visited several times in the past. It's notable for the Hungerford Arcade, which has featured on Bargain Hunt several times and is well worth a visit.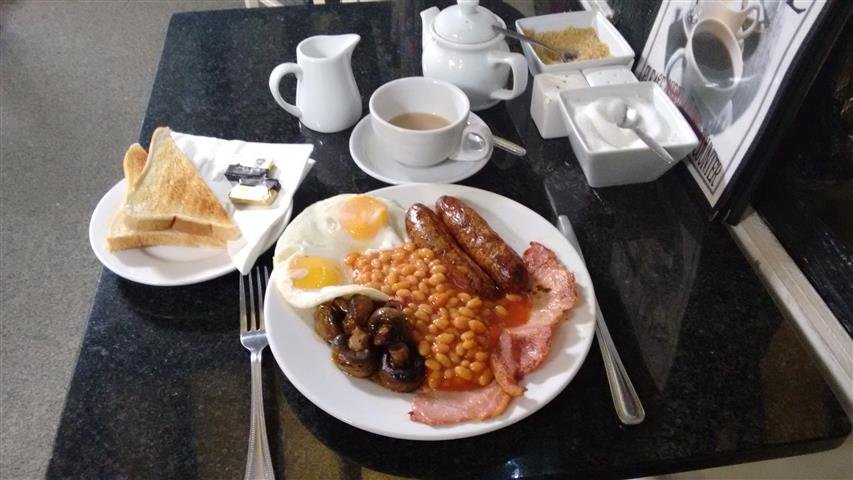 It was around 1.45pm by the time I got there and I was starving, having not eaten all day, so the first thing I did was to head up to the Rafters Café in the rafters (funny, that) of the Hungerford Arcade. In marked contrast to my previous report on a Full English Breakfast, this one was far more like it – two decent sausages, two good rashers of bacon, two eggs, mushrooms, decent beans, nice toast, and an actual pot of tea.
It was then time for a really good root round the Arcade. If you're not familiar with it, then it is a large collection of stores / booths / areas owned by different vendors; some manned but in most cases unmanned and being sold with the vendor in absentia by the front desk. Some areas are locked and you can get the key from the front desk, others have locked cabinets and you must enquire at the front desk and a member of staff will come with you to unlock, and others are open and browsable.
Last time I was there, which was mid-January, I saw a really lovely Art Deco style figurine but it was £50 and had damage to the hand. It was also in a locked cabinet. I very nearly asked to see it but passed in the end, feeling it overpriced for what I thought it was. I've thought about it many times since though.
I was delighted to find that it was still there (pictured), and also this time the cabinet was unlocked with a sign saying you were free to take stuff out and have a look. I considered this a sign of sorts (well, duh), so I very carefully took the figurine out to look. It was "Ocelot" by Franklin Mint / House of Erté – a hand-painted, limited edition, individually numbered, porcelain figure (with 24K gold paint and silver chain, I have since found out from research). This made it significantly more valuable than I had first thought.
The damage to the hand (pictured) was a great shame – her thumb, and her index and middle finger, are all missing on her right hand. But other than that there was no damage and her earrings and necklace were not broken or missing (they are chain, rather than moulded).
I took it to the front desk and asked if the seller was prepared to negotiate on price, and the very polite young man on the front desk said that the seller had indicated that they would offer a 10% discount if pressed (i.e., £45). I looked unconvinced, and he said that he would be happy to ring the seller if I had a price in mind. I said that in light of the damage to the hand, and the lack of a Certificate of Authenticity, the best I could go to was £40. In my head I also knew that if it had been unsold for at least 2½ months then the seller might be amenable. He couldn't get an answer on the phone immediately, so said to leave it with him.
I continued to browse and quickly came across a small mushroom-shaped brass and frosted glass lamp shade (pictured) that I thought would be ideal for the downstairs cloakroom. It was only small, and there wasn't much age on it, but the £13 price label reflected that. I'll need to buy a brass ceiling rose, a brass bulb holder, and some period flex to complete it, which will easily be the same again in money, but I think it will look lovely.
I also found some small polished nodules (which are like geodes but not hollow) so picked two small ones at £4 and £5 respectively to add to the collection of things to go on the driftwood shelf.
By now the seller had phoned back, and accepted my offer of £40, which I was overjoyed about. I asked if there was any movement on any of the other items, and he said that that the label on the lamp shade indicated the seller would knock no more than £1 off, so it would be £12, and that the stones were on their money (which I agreed with – I wasn't going to haggle on those anyway). So it just remained to get the figurine very carefully wrapped up to avoid any further damage to it. And pay, of course.
I took everything straight back to the car, and then continued to browse the shops because, as I mentioned, there are loads of Antiques & Collectables shops in Hungerford which is why I like going there.
Sadly, despite a really good look, I didn't find anything else that I wanted to buy although I really enjoyed the browsing.
It was about 4.30pm by now, so I headed on home.
When I got home, the first thing I did was to mount the railway sign to the side gate (which can't been seen from the road, so I'm not overly worried about theft). It fitted perfectly and I am so pleased with it!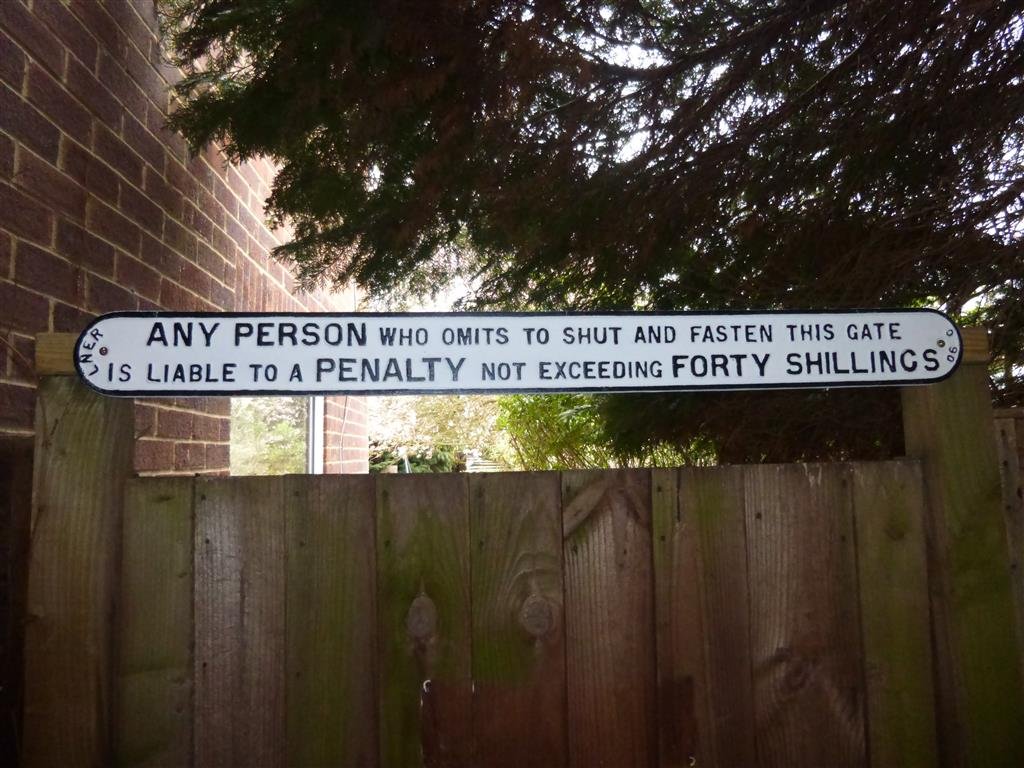 I did a little research online and it seems that although this sign isn't that rare (there are a number for sale on eBay both current and recently sold), it looks like I did get a good price on it as the going rate seems to be around £40 – £60. So that was a nice bonus.
I also carefully unwrapped the Ocelot figurine and put it on the shelf, and then photographed it. I really like how this photograph has come out – the composition and lighting especially.
And that was my day. I was absolutely knackered, so I had a quiet evening and a nice soak in the bath.
This Easter Weekend sees a whole load of shows on Friday, Sunday and Monday, with Easter Monday being particularly busy with several shows within driving distance of each other. So hopefully I will find some more bargains then too.