As I mentioned previously, the bed and the furniture were due to arrive last weekend and I was going all out to get my bedroom cleared in time. Fortunately I achieved that goal and by Wednesday evening the room was cleared, hoovered, and ready. With the room clear I could see that the carpet was rather worn and could really do with being replaced but it was entirely too late by then.
On Friday late afternoon just after I got home from work, the bed arrived as scheduled and was assembled without any fuss or bother.
The furniture was due the next day and since I had ordered it in girl mode, I thought I might as well receive it in girl mode. Not that the delivery guys would have given two hoots either way, of course, but I thought it would be appropriate and fun.
I didn't know what time they would be arriving, and decided I wouldn't bust a gut to get up early – I would get up when I did, and if it meant that I was awoken by them arriving then I'd just pull on a t-shirt and joggers and open the door in guy mode.
As it happened, I awoke before they arrived. I decided I would just go for minimal make up – just foundation, a little eyebrow pencil, some mascara, and some lippy. Just as well really, because I had just got that done and my wig on, and was just brushing it, when the doorbell rang! If they had arrived when I was in the middle of things that would have been the worst possible scenario, and one I had not thought of.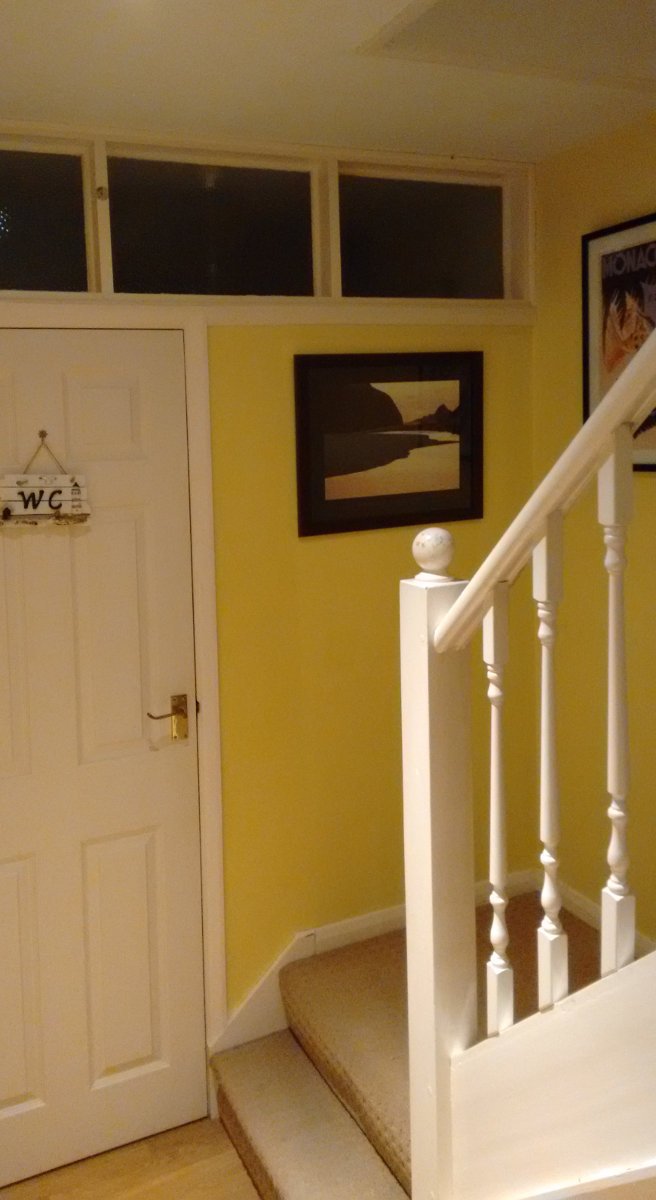 There were two guys, and they chose to do the hardest item first – the 7-drawer low wide chest of drawers. The route involved coming in the front door, turning right along the hallway, then a 180° turn to get up the stairs. It was very, very tight. They had to tip the whole unit vertically, and it only just cleared the ceiling on the mini-landing at the foot of the stairs (pictured). Then they had to tip it forward parallel to the stairs and there were literally millimetres of clearance on the ceiling. I'm not sure what we would have done had it not fit.
The rest of the furniture went up without any problems and in no time at all it was all done and the guys left me to it.
I did a little organising, and then decided to go out for a while. I added a little eye shadow and some eye liner to my make up, and then left the house. Whilst I was out I was a victim of rather an unpleasant road rage incident where the other driver was trying to force me to stop by trying to cut me up and block me to a halt so that he could remonstrate with me, but I don't really want to go into that on a public forum. Sufficient to say that I eluded him each time and eventually lost him. But I learned an important lesson that it is even more important not to rile other drivers when you are a woman than it is when you're a man. Until that incident I would have predicted that the reverse was true – that a man would be more aggressive towards another man, but it would seem not. Very scary.
When I got back home, my longer hair was really annoying me but I wanted to stay in girl mode, so I swapped to my older, shorter, wig which you'll have seen many times in my photos in the past. I haven't worn it since buying my new wigs, so it was nice to go back to it.
I spent the rest of the evening doing this & that, and then had an early night. For once I didn't take all my make up off – I removed my foundation and lippy but left my eyes, with a view to getting back into girl mode the next day.
The next day, I got into girl mode again and headed over to Woking for a Take Five Flea & Collectables fair. Amita Vetta of Love That Jewellery was there again and she instantly recognised me, and we had a nice little chat. And the guy who does the Swing style singing was there too, only I have only ever talked to him in guy mode, which made me realise that I should really make an effort to always go to these things in girl mode even if I don't feel like it because it is good to build up relationships with people.
This was especially true when I got chatting to another seller who I have previously bought a necklace from, because she remembered me buying it and also remarked how lovely the necklace I was wearing was (it was the same as on Saturday, pictured). I saw she was selling a necklace I liked the look of, and I thought the price of £15 she was asking was reasonable so bought it. I really should stop buying necklaces or I will have to declare myself a collector of those too! I told her as much and she laughed and said that was how she started as well and if I wasn't careful I would be opening a stall like her. 🙂
I spent a lot longer at this fair than I usually do – normally I whistle round in around 45 mins – but I took far more time this time and was there for double that if not longer. Possibly because I have more I want to buy now that I am accessorising a room. I bought a couple of Art Deco / Art Nouveau style postcards. I'm not planning to start collecting, but if I get enough similar cards together I will collage them into a picture frame to hang on the wall. It doesn't matter if it takes a while until I have enough – they can sit in a drawer until I do.
Another thing I managed to get was a gorgeous Art Nouveau picture frame for £5. I didn't have the nerve to haggle on that price – generally £5 and under I don't, although my mum definitely would. I don't know how she has the cheek to do so, to be honest.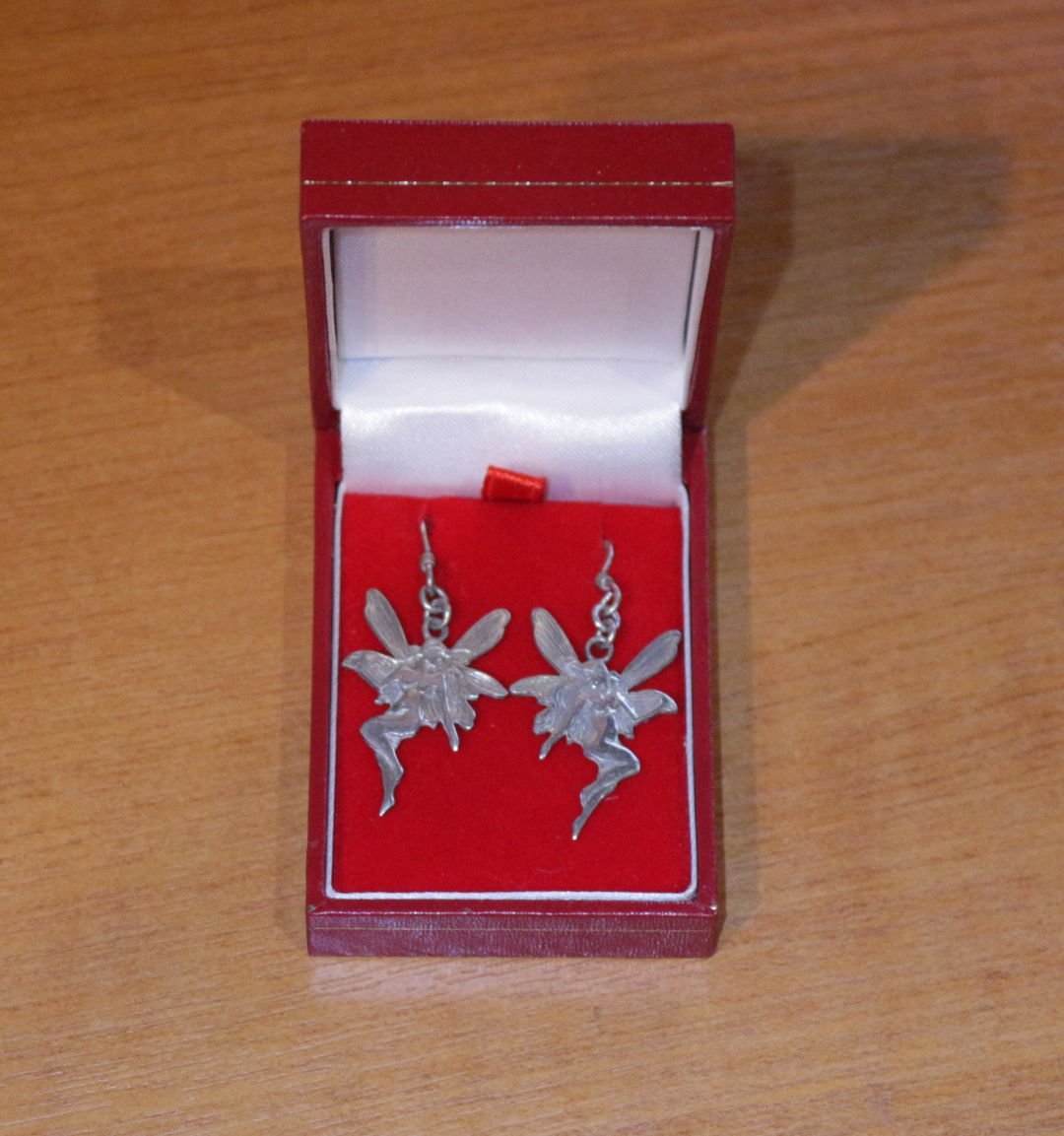 I also saw a really lovely pair of silver fairy drop earrings. The seller wanted £12 for them and I offered £10, which he accepted.
I particularly liked them because they are mirror images of each other – I really hate it when single-sided asymmetric earrings are identical to each other because it results in them facing in different directions when you wear them. I'm strange like that – things like this matter to me.
Eventually I was done, and I moved on to the small fair in the Village Hall at Ripley, since that's not far from Woking. I've been to one of these before, although didn't blog about it. In fact, now that I come to think of it I have been to quite a few of these fairs since I last blogged about one. I think perhaps I've been going to so many that I thought readers of this blog might be rather bored to hear about yet another one!
Although Ripley Village Hall is a small venue, last time I was there I got some reasonable stuff so I was hoping for the same again.
I spotted a pair of what seemed to be lead or pewter faeries for £3 each. I wasn't too sure on them, but the seller said I could have both for £5 so I decided to take a punt. The wings are definitely lead or some other soft metal as the tips had bent and needed to be teased back into shape. The crescent moons, however, are clearly resin as the silver paint has worn off them showing the translucent resin underneath. I may touch them up with silver paint or I might just bin them. I haven't decided yet.
I then came across a rather beat-up slim wall cabinet in a shabby chic style, whose knobs match the ones I have fitted to my wardrobes. The label price was £35, and I asked the seller what her best price was and she said she could come down to £25, which I thought was fair. However, it turned out I literally only had exactly £24 left by now, so I asked if she would accept that and she did. It's nice enough, although it has an absolutely horrid modern white plastic magnetic catch (not visible in the pic) holding it closed. I think I might have to replace that with something more in keeping.
I looked around the rest of the hall, even though I was out of cash, but there was nothing else of interest, so left with just those items.
When I got home, I made myself a nice lunch and settled down to watch the Australian F1 GP. However, a combination of the lunch, the active morning, and a less than thrilling race, meant that I fell asleep on the sofa and missed much of the race. However, it appears that I didn't miss much, sadly.
There's nothing much more to report for now. I am still pondering on the Art Deco light. I have two options for making it shorter but I will leave that to another day to blog about.
Likewise I will leave it to another day to report on how the bedroom has come along this week.