On Thursday I had a make-up lesson with MAC Cosmetics in Guildford. MAC do a number of offers like this, from a taster, to a makeover, to a full 90-minute tutorial / lesson which is what I went for.
It costs £50 for the 90 min lesson, but you get that money back as credit against MAC products, so is effectively free (or a discount on products, depending on how you do your maths).
I decided I wanted to concentrate on eyeshadow for this session, and particularly a shaded look. So that's what we did, although we covered other things too.
With these sessions, the artist does one side of your face and you do the other under supervision. We went for me doing the right side of my face (my right, so the left as you look at the picture) and her the left (my left).
For the eyeshadow we used a primer, and then quite a pale cream colour ("grain") on the inner part of the eyelid, then a bronze on the middle, which is also mirrored on the lower eyelid, and then a black ("carbon") on the outer edge of the lid both above and below, all blended in of course.
For eyeliner we started with some gel eyeliner but then got talking about various eyeliner techniques; I've used pencils, gel and liquid before now, and she showed me a fourth option. Using the carbon eyeshadow and an angled brush, you can use that to do an eyeliner. And it has the advantage of being quick and not dragging, and also giving a softer smokey look. I think I may experiment further with that.
For the lashes, we used MAC's "Extended play" eyeliner. Normally I use their false lash mascara which has a much chunkier brush. But she showed me how to use a small separate mascara brush held vertically to do the lower lashes and I discovered lashes I never even knew I had! I was so excited about that discovery. She's given me some of those brushes and it is possible to buy more so I will definitely be using that technique in future!
On the eyebrows, I usually use MAC's "Lingering" eyebrow pencil and then blended with an angled brush. The disadvantage is that the pencil is very thin (it's a propelling pencil) and doesn't last long and also breaks very easily. But we explored an alternative (and cheaper) option. Using an angled brush and MAC's "Espresso" eye shadow you can achieve the same effect on the eyebrows as the pencil, plus it comes out a little softer too which is exactly the effect I wanted. So I'm really pleased with that and will start to do that in future rather than replacing my pencil when it runs out.
Another tip I picked up is to do eye makeup before doing foundation. Usually I do foundation first to create a "blank canvas", and then move on to my actual makeup. However, eyeshadow often falls onto your cheeks when doing your eyes. By doing the foundation after the eyes, you can wipe off any excess eyeshadow that has fallen on your cheeks, and then cover it over with foundation.
We used Fix Fluid NW15 (which is what I normally use) and NW20 Pro Long liquid concealer under the eyes. Normally I use a solid concealer in much the same way but I may get the Pro Long at some stage.
On top of that we used MAC's "prep & prime" translucent fixing powder which is something I use anyway.
For blusher we used Dainty, which is a lighter pink with lovely sparkly bits in it, applied to the tops of the cheek bones.
So, at the end of all that we got to what you see in the pic above. I'm really happy with it and it's definitely "me" and a look I would regularly wear. If you want a full breakdown of what we used then be sure to click the pic on the right.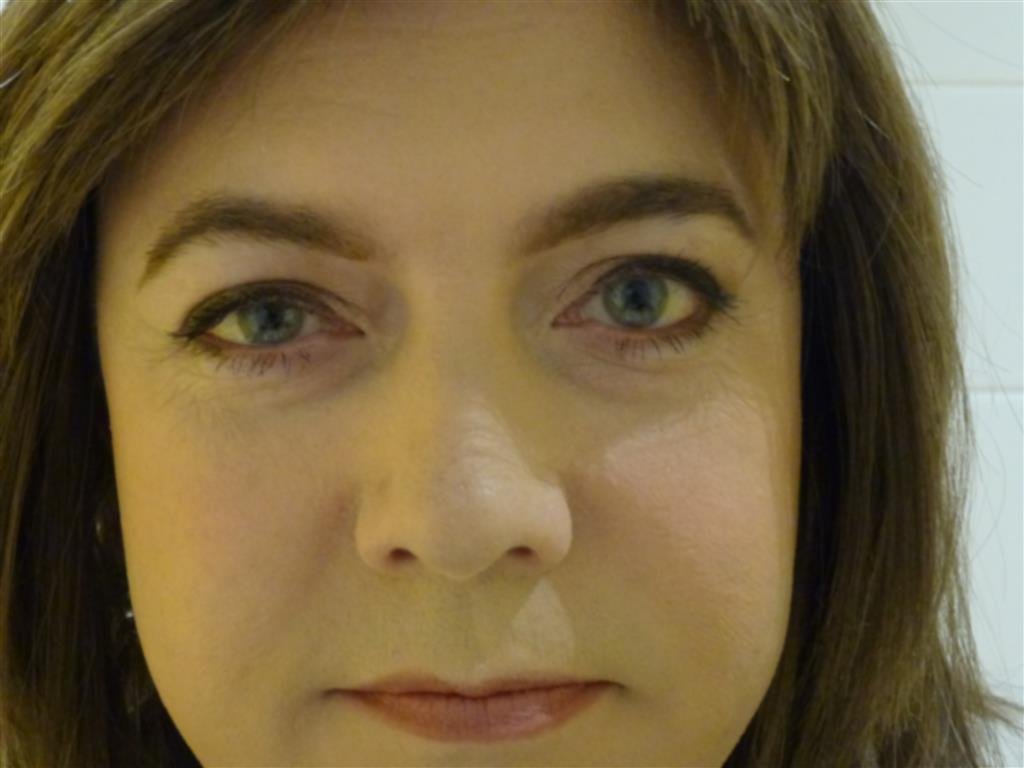 I mentioned at the start that the lesson was £50 redeemable against product. I decided to go for the primer, the espresso and carbon eyeshadows, an eyeshadow holder, and the dainty blusher, which came to £61.50 (it adds up so quickly). Depending on how you do your maths, that's £61.50 of makeup with a free 90 min lesson, or £50 for a 90 min lesson with a professional make-up artist and £61.50 of make-up for £11.50, or perhaps something in between.
Sadly I couldn't afford the rest of the eyeshadows, or the amazing brushes we used (the dual bristle foundation brush was gorgeous but was £27), so after I left I confess I popped next door to Boots and took advantage of their 'buy one, get the 2nd half price' offer in their No.7 range, and got a 'chocolate fondant' quad eyeshadow compact, a foundation brush, concealer brush, and eye contour brush for a total of £30.87 (a saving of £8.88 due to the deal). Yes, the brushes are nowhere near as nice as the MAC ones and may be a false economy but I simply can't afford the MAC ones right now. I didn't buy angled brushes as I already have two.
Also whilst in Guildford I did a little clothes shopping and picked up a couple of bargains in New Look's sale. A nice black & green velvet flock dress, and a really cute short pleated skirt for £4 (yes, £4!!!). When I got home I just had to put a schoolgirl outfit together with it but more on that another time.