If you are into clothes shopping in charity shops, then I can thoroughly recommend a visit to Eastleigh. And if you're not, then try it – there are some ridiculous bargains on nearly-new (and sometimes actually new) clothes to be had.
There are a disproportionately large number of charity shops in Eastleigh, in the area North of the Swan Shopping Centre (on Market Street and High Street, to be precise), and they are all really large stores too. I guess the rents must be very reasonable or something.
I've only recently discovered Eastleigh, having had until now no reason to visit, but necessity brought me there recently and I've since been back twice by choice. The first time I visited, I parked in the multi-storey car park at the Swan Shopping Centre because I didn't know any better, but it's worth noting that the 'Pay & Display' on-street parking on Market Street (and possibly elsewhere, but not everywhere) lets you park for free for up to an hour from 3pm onwards. You park as normal, go to the machine, and press the green button to get a free ticket for an hour's parking. Do check the machine first though, because not all roads do this. For example, Leigh Street (literally round the corner from Market Street) does not.
Another thing worth noting, if you do this, is that the closing times of the various charity shops vary quite markedly. Some stay open to as late as 5.30pm, but others close as early as 4pm, so it's worth bearing this in mind and planning your visit accordingly. I'd suggest that arriving at 3pm and getting your ticket at 3.01pm would be the sweet-spot, otherwise if arriving later then prioritise the earlier-closing shops.
Without exception, I found the clothes in all the charity shops to be clean, pressed, in very good condition, ordered by size, and very cheap. Prices seem to range from £1.49 up to around £8.99 for normal day dresses, tops, skirts, etc., with prices averaging in the £3 ballpark and with it being exceptionally rare to see anything over £4.99. Some shops have higher prices than others, but overall they are all pretty cheap. Prices tend to end in either .49 or .99, although you'd be pretty tight if you didn't put the penny straight back in the collecting tin by the till (if paying with cash, obviously).
I picked up a number of tops and dresses in my visits, from brands such as Store Twenty One, Tu, Marks & Spencer, H&M, Dorothy Perkins and Papaya. None were more than £4.99 and one was little as £1.49, with the next most expensive £2.49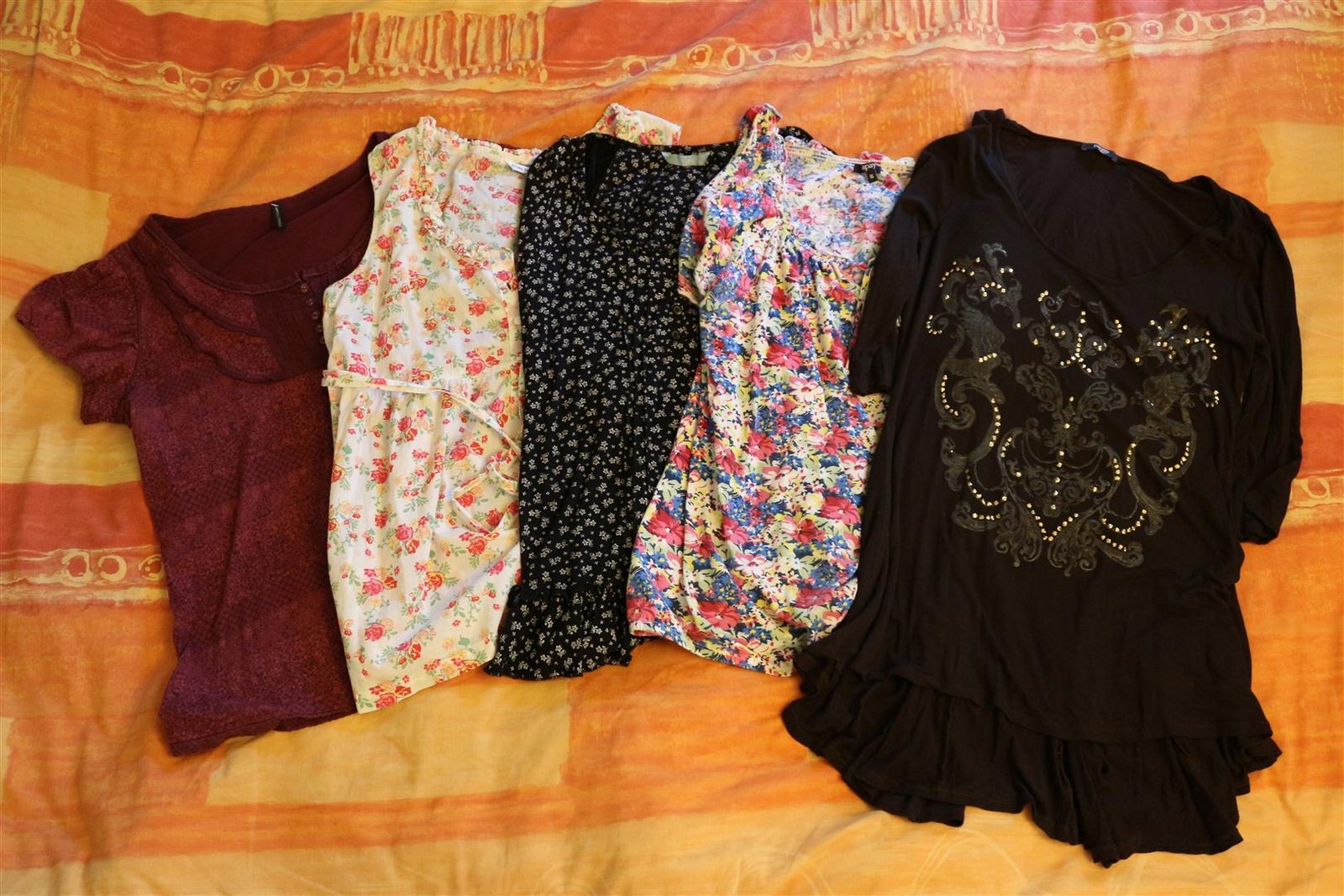 Favourite pick was this gorgeous dress by Dorothy Perkins, modelled by the lovely.. um… me. 🙂
It's a size 16, which is a size bigger than I usually go for, but it fits really well and I'm really happy with it.
The only poor choice I made was this white linen dress by H&M. It was sold as a size 14, but when I got it home and tried it on it was way too small, in both waist and chest (in fact it wouldn't even go round my chest without any breast forms). When I looked at the actual label I could see it was a Eur 40 / USA 10, which depending on whose conversion chart you look at is a 12-14 (predominantly 12).
It didn't cost much though so maybe I will re-donate it.
In every shop I visited, nobody batted an eyelid that I was buying ladies clothes in guy mode, and everyone was very friendly.
Anyway, I just thought it was worth sharing the knowledge.
Update: By May 2018 I had lost enough weight that I could get into the H&M dress. Yay!