On Saturday I decided to drive up to Reading to visit Fanny's Antiques, which is an antiques and architectural salvage shop on the North side of the Reading ring road. It's not the first time I have been there, but I haven't been there recently.
Before I set off, though, I decided to grab some breakfast (or, rather, lunch) from a local café. My regular one was packed, so I went to a new one that I have not tried before.
I gave my order, and then sat down to wait for it at a table. And waited. And waited. And waited. One of the people on another table who had arrived before me started to complain that they had been waiting for 40 mins and were demanding to know when their order would arrive. In the end their order finally came out and mine came out not long after. My total wait time was probably similar to theirs, which is pretty unacceptable especially if you are not forewarned. What's worse is that they didn't seem that busy.
What I was finally given was the most pathetic "Full" (sic) English Breakfast I have ever had. Two coins of bacon (it would be too much to call them rashers), a single sausage, and a small fried egg, all spaced out on the plate with a large quantity of cheap baked beans filling the gaps and trying to disguise how shite it was, with some anaemic toast that was more bread than toast to go with it. They'd also put the packets of butter on top of the toast which meant they melted, and I didn't so much spread them as pour the butter out of the foil packets.
As one of my Facebook friends put it when I posted the photo – "Did you already eat some of it, or is that a child's potion?".
I won't be going there again.
I then hit the road for Reading and was soon at Fanny's and parked up in the front entrance.
I really like Fanny's as, not only does it have a lot of great stuff, but the building it is in is very interesting too. I think it must have been an abattoir or meat packing building at one point, because there are metal runners with big meat hooks on them throughout the ground floor of the building.
It's a little run down with paint peeling off the walls and the ceiling is braced in places with Acrow props, but I think that's half the charm.
There's always quite an eclectic mix here – mainly furniture downstairs, with trinkets, lights, telephones, wall signs and other ephemera dotted around the place, and then upstairs there is a collection of vintage clothing, art, bric-a-brack, household items, more lights, books, and the like. And throughout the place various pictures, paintings and wall art. There is also a small outside area with various outdoor furniture, hanging baskets, wall baskets, metal signs, etc.
I was on the lookout for anything that caught my eye, but mainly I was looking for a chair for my dressing table and also a small dressing table mirror.
I was tempted by a square metal stool with back (does that make it a chair? Or maybe a StoolChair?) but ultimately decided against it, although I gave it serious thought and came back to it at least twice for another look.
Likewise I looked at a funky retro wooden chair, which was actually fairly boring when you took a closer look at it.
I think that's half the appeal of the Shabby Chic look for sellers – take any old dilapidated, mismatched or out of fashion crap, duff it up a bit more, paint it in chalk-based paint, randomly rub some of it off again, sell it. Sorted.
Mind you, it's equally good for buyers too because you don't have to worry if you fix it a bit wonky or if it doesn't quite match your other stuff. Anyway, I didn't think the chair was special enough so left it.
Another thing that caught my eye was a coffee table made from a F1 tyre (from 1993), but it was a very poor example of one as it was literally just a tyre with a disc of glass on top. The side walls of the tyre were saggy and it looked a bit of a mess. I think that if I were to have something like this I would want the wheel as well as the tyre, in order to give it shape and impact. So, needless to say, I didn't buy it.
Sadly I didn't find anything at all that I wanted to buy in the end, even though I had a very thorough look, so I eventually moved on and briefly popped into The Range over the road, but didn't buy anything there either. It was turning into a pretty unproductive day.
I thought I would pop into Reading itself for a little, and parked up on street parking near to the station as I wanted to visit the Collectors shop in the Harris Arcade and also the Comics & Vintage Toys store next door to it. The parking bay I parked in appeared to say on the sign that it was for the holders of Residents Permits or was Pay & Display for non-residents, so I bought a ticket from the machine and displayed it in my car.
Walking over to the Harris Arcade, I found both shops I wanted to visit closed but with the Comics & Vintage Toys shop with a sign saying "Back in 5 mins" and, sure enough, he was and opened up for me. I had a look around but nothing caught my eye, although I did have a nice chat with the guy about how the shop had appeared on an episode of Toy Hunter which airs on the Quest channel in the UK. Apparently they filmed for over 15 hours to film the short segment that appeared on the show. I realise that filming takes a while but I didn't realise it was *that* long!
The shop next door, which stocks Collectables, Militaria, post cards, china, etc., was closed. What I didn't realise at the time was that both shops are part of the Reading Collectors Centre. Had I known that, I would have asked the guy if he could have opened it for me, because it was one of the reasons I had visited. I will know next time.
I wandered around a bit longer and found a clothing shop that was selling an absolutely gorgeous skirt that I totally fell in love with. It was in a sort of light mocha colour (although also available in black and also white), knee length, very light and floaty / flarey, elasticated waist, and fully lined. It was £24.99 and I really wanted to buy it but ultimately thought it was a little expensive for what it was and denied myself. I really, really wanted it though.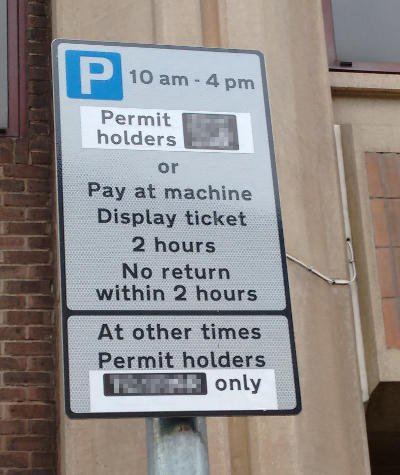 Eventually I returned to the car to find a parking ticket on the windscreen. Arseflaps. Initially I was full of righteous indignation that I had a valid ticket, but when I looked more closely at the sign showing the parking restrictions, it became clear that I had not read it correctly. I had read "Residents Permits or Pay & Display", but what it actually said was that this was the case between 10am and 4pm, and that outside these times it was Residents Permits only. I was still there after 4pm so I got a ticket.
What is galling, though, is that I bought the ticket at 4pm, so the machine charged me £1.50 for 19 seconds of valid parking.
Worse, yet, I remember this guy. He saw me arrive. He even saw me buying the ticket. Did he say "you know that ticket will expire in a matter of seconds and then you'll get a ticket?". No, he didn't. The nasty little maggot waited for 7 minutes and then came back and slapped a ticket on my car.
Yes, I know the ticket clearly says it expires at 4pm, but since I bought it at 4pm I thought it said it was valid from 4pm. My mistake, I know.
The fine was £50, or £25 if paid within 14 days, plus the £1.50 that I had already paid to park. It's particularly galling that I denied myself the skirt that was £24.99 that I mentioned earlier, and then had to pay a £25 fine. I feel like I should drive back to Reading this weekend and buy the skirt as a matter of principle now. 🙂
On the way out of Reading I called into Costco and bought, amongst other things, a 1.75L bottle of pre-mixed Margarita and a large steak. So that was my evening sorted and, indeed, my hangover for Sunday. Needless to say I didn't do a whole lot on Sunday and have nothing to report on that.