I was at the Monthly Maltings Market at Farnham a few weeks ago, and was tempted by some fountain pens that a seller had. He is there every month, and I had previously looked at his pens but not bought any. I had been somewhat tempted by a Parker 61 Flighter as I had liked the inlaid arrow on the nib section, but the nib itself was in very poor condition so I passed.
However, this time I got into conversation with him, and we talked at length about pens in general, and a few specifics.
I had brought my Sheaffer Targa set to show him (show not sell), and he liked it. He had a boxed Targa two pen set in stainless steel which was £65. Interestingly, he said steel pens are less popular these days. He also had a Sheaffer Cartridge (looks similar to the 440 but has an arrow head cutout rather than diamond) but I figured that was too close to what I had already, plus I'm not so keen on that nib shape.
He had a collection of Parker 51 pens there, and I asked for one that would write, so he suggested a Teal one that had a converter, rather than the Vacumatic to the left of it since that one needed restoration.
I also mentioned that would like a Parker 61 but didn't fancy his Flighter set due to the nib damage, and he showed me another 61 which he had, which was an early 61 capillary.
I enquired as to the price of the 51 and 61, and he wanted £35 and £45 respectively. I asked for a package price and he suggested £70, I countered with £65, and he accepted. It was rather more than I had intended to spend on pens, but I was taken by the moment.
Whilst I was there, I asked if he would mind me taking photos of his stock, and he was happy for me to do so, so here they are:
You'll spot two boxed Parker Sonnets there. One was absolutely mint never been filled. I don't recall what the price was – I'm not sure I even asked, although I am sure it would not have been cheap.
The Sonnet has a reputation for being a lovely pen to own, but due to a serious design flaw it is not a pen you want to use every day.
You can see the Parker 61 Flighter box set in that pic, and you can also see the Targa by Sheaffer box set that I mentioned too.
The rest of his pens are in a 48-pen case. There is a mixture of Parker, Sheaffer, Waterman and others.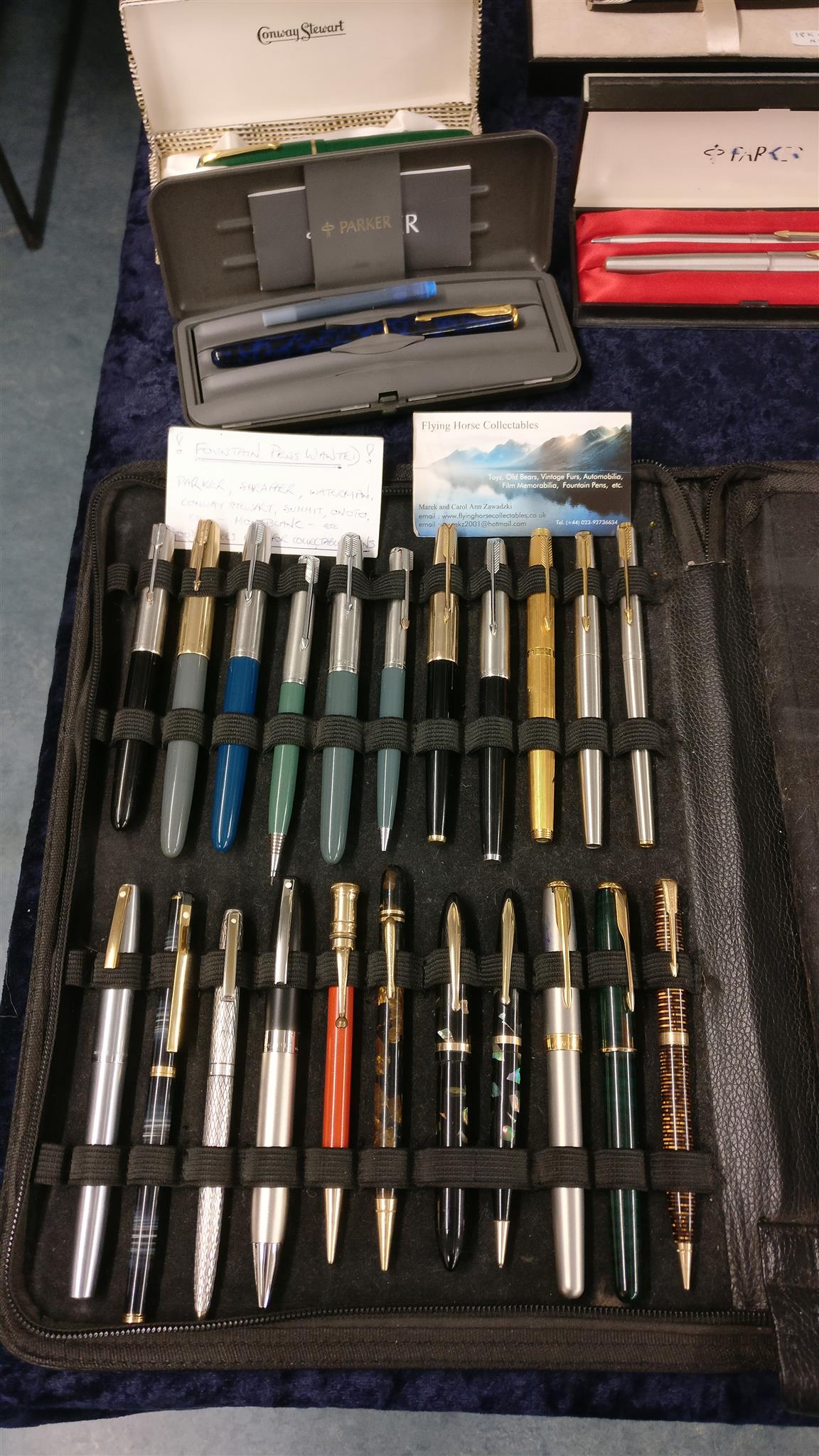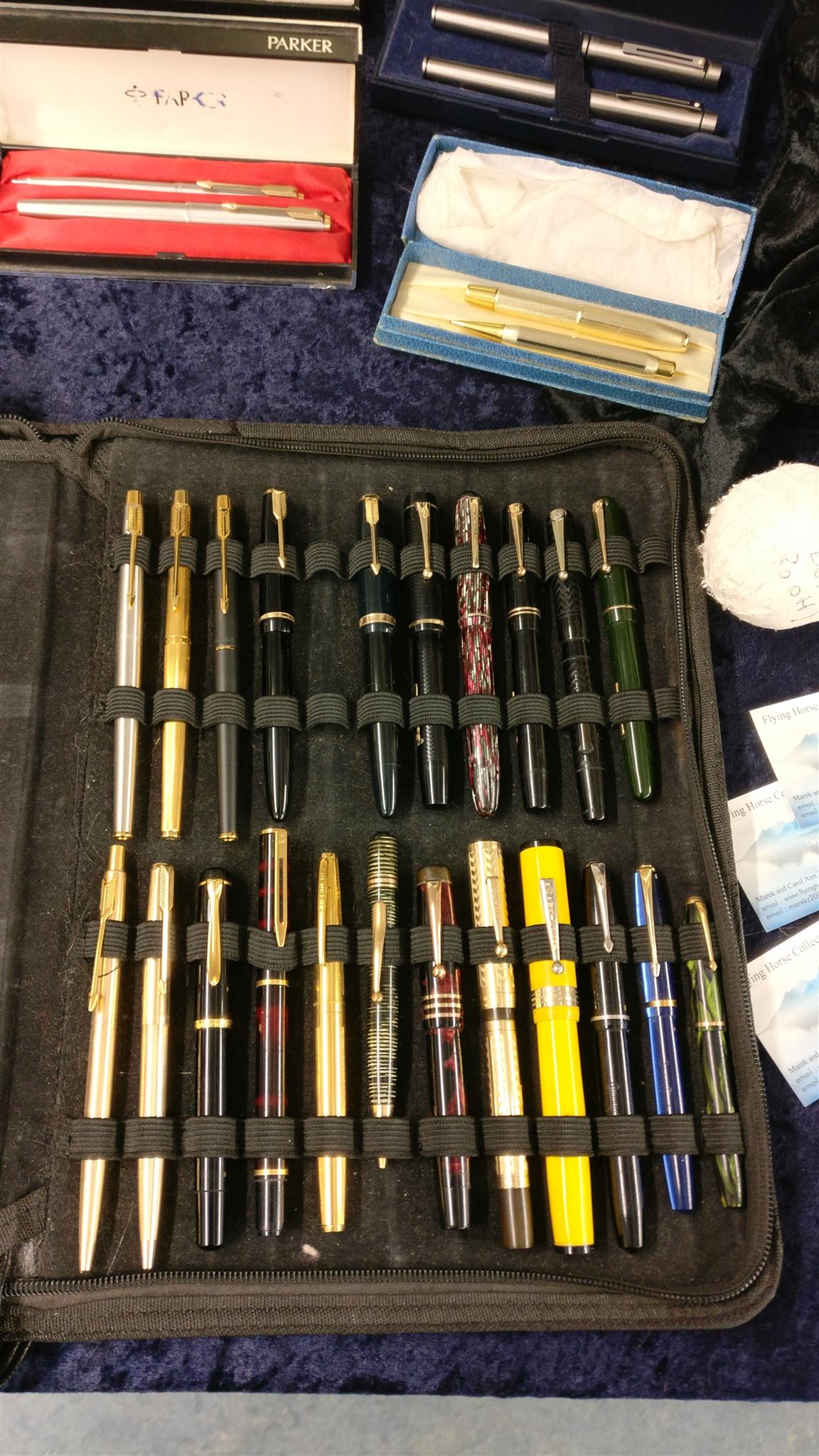 Parker 51
When I got the pens home, I initially couldn't get either pen to write. When I filled the 51, it expelled air which meant it was not blocked. And when filled, if I gave the filler a tiny squeeze then I could get a small droplet of ink to form, but it was dry as a bone when I tried to write. It wouldn't even write when dipped.
However, I cleaned the nib by running it under the tap, and gently brushing it with a clean disposable mascara brush, and put a tiny bit of ink in it and it actually wrote although unevenly. So I discarded that ink and then stood it in a shot glass of water with a drop of washing-up liquid in it. Then after an hour or so I drew that into the filler as you would ink and agitated it, and flushed that out and then flushed through repeatedly with water, and then filled with ink. It now writes pretty well although leans out a little. It might improve with use.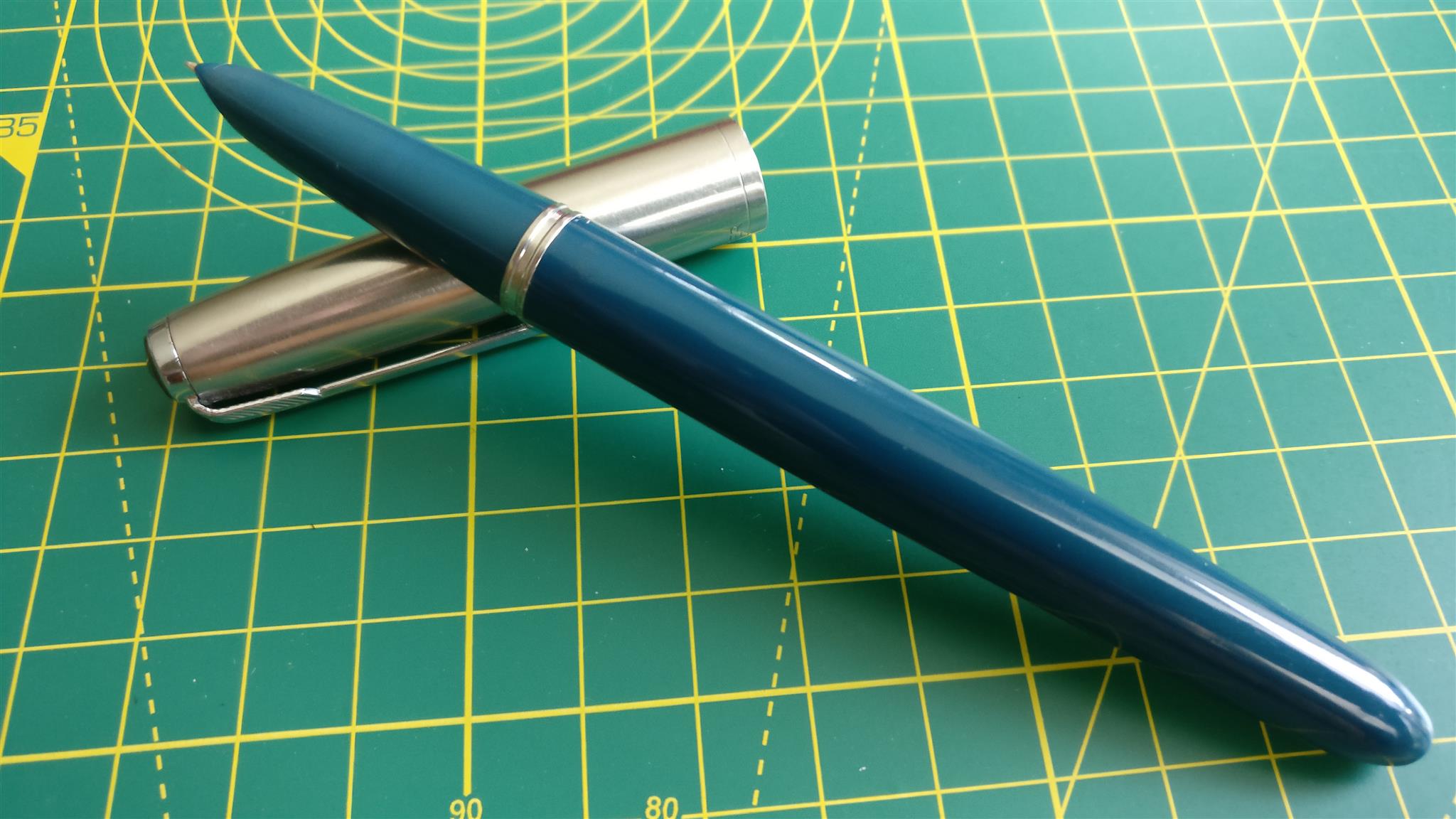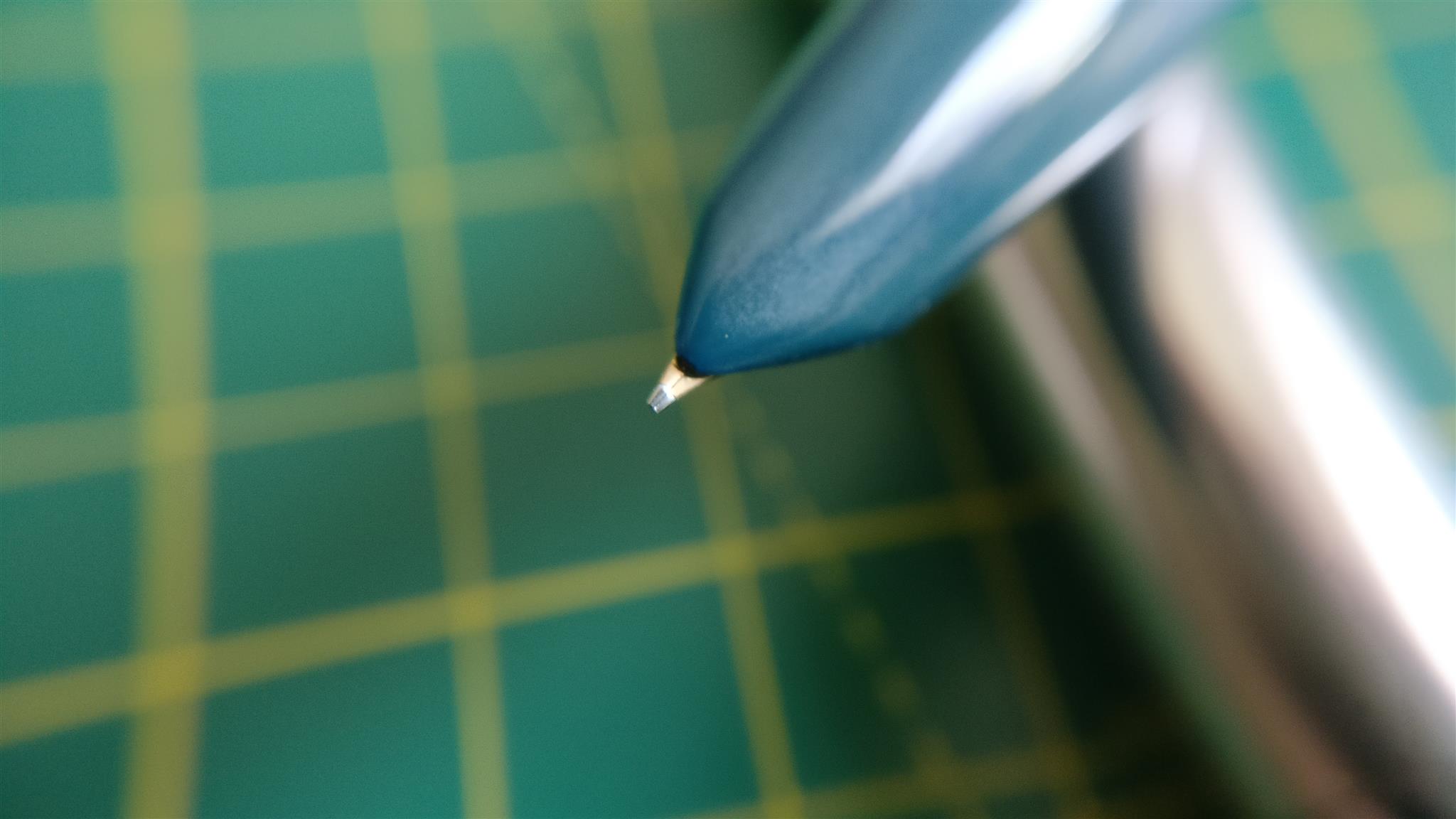 I spent quite a bit of time online researching what age this pen might be.
The tapered barrel with small vent in the end, Aerometric filler with plastic end (stamped with squeezing 4 times), shorter clip, and jewel in the end of the cap, all point to a MkII-B, which dates it as 1951-1960 were it a USA pen. However, the "Made in England" pens (of which this is one) have slightly different dates to the USA pens, and whilst there is loads of information on the latter there is far less on the former. Some sources suggest that the design of the UK Parker 51 lagged behind the USA pens, so mine could be newer than 1960.
Parker 61
Now the Parker 61 capillary that I bought. This is an unusual filler design inasmuch as you unscrew the barrel and stand the filler in the ink for 20-30 seconds and it draws ink in via capillary action.
It also has an inlaid arrow in the section (as you can see in the pic). These are very prone to falling out, especially when cleaning, and also due to shrinkage in the section. It's more a pen for collecting than regularly writing with due to the worry of this happening.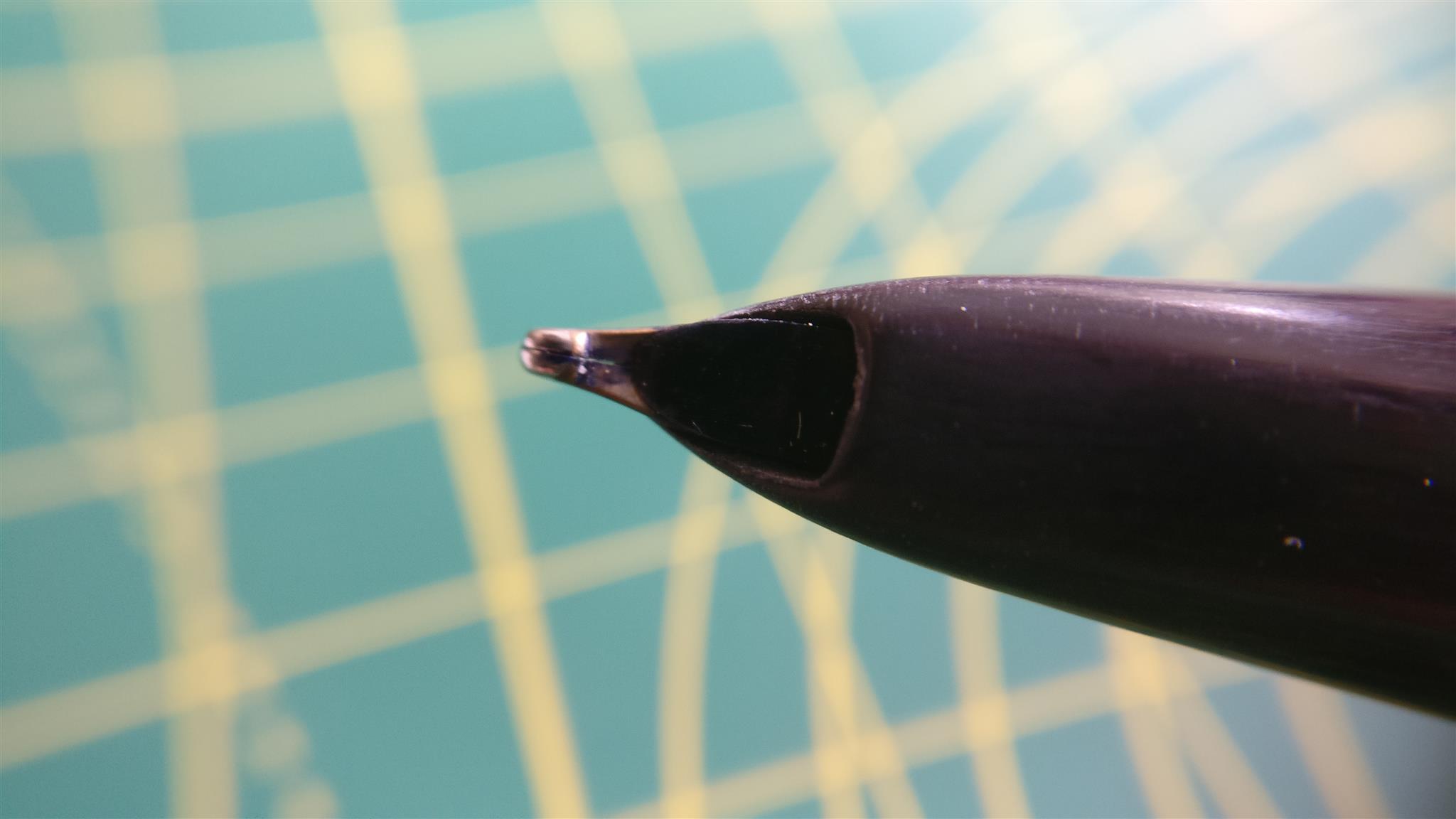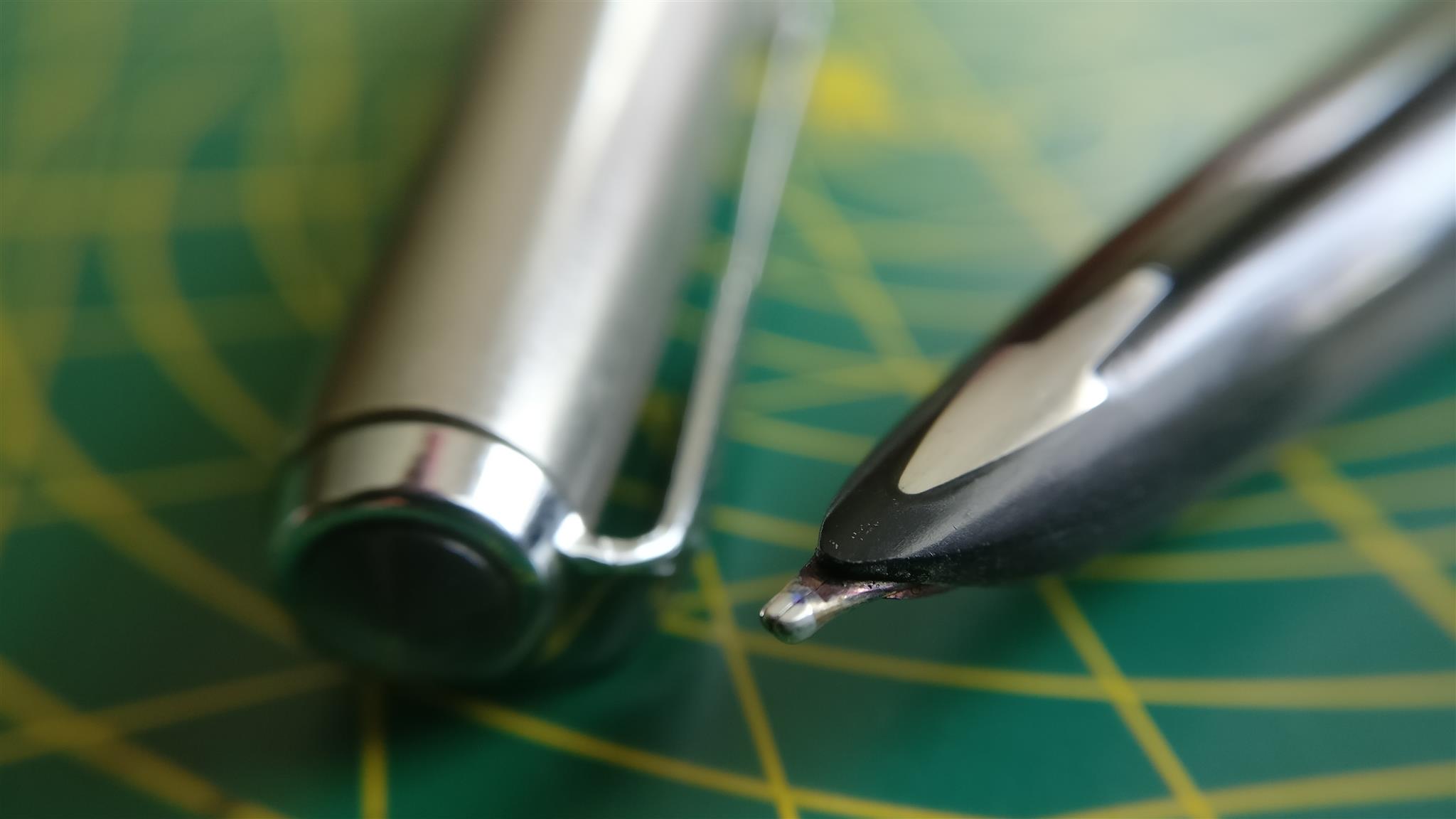 I cleaned in much the same way as I did with the 51 – running it under the tap and gently brushing the nib with a disposable mascara brush, then standing it in a shot glass of water with a drop of washing-up liquid in it. Then after a good soak, I dipped the capillary filler in the shot glass for a few seconds, then drew as much out as possible via the nib with kitchen roll. It's clearly had blue ink in it in the past. I then let it fill in black Quink for 10 seconds or so (I didn't want to draw a full load of ink into it in case it needed further flushing) and then tried writing with it with success. It actually writes quite well.
I've also noticed a crack in the barrel that I failed to spot when I bought it – I need to be much more careful in future when buying. I can't believe that I failed to spot that.

Again, I did some research on the age of the pen.
The Parker 61 was launched in the USA in 1956, but was not launched in the UK until 1964 and mine has "Made in England" on the cap. The Lustraloy cap with a chrome clip that mine has was introduced in 1965 (source: parkerpens.net). The capillary filling system was discontinued in 1969, which dates my pen as 1965-1969.