On Sunday I was back at the Woking Leisure Centre for another of Take Five's fairs, this time for a 20th Century, Art Nouveau and Art Deco fair. These are generally less packed with stalls than the "flea, antiques & collectors" markets but the sellers tend to have more expensive and larger items for sale.
I went in knowing from previous experience that I would be unlikely to find something that I both liked and could afford, and that was certainly the case. There were some lovely pieces but were way outside my price range. Rather amusingly I also saw a few items that had also been in the 'flea, antiques & collectors' market a few weeks previously. I guess there is some overlap between the two.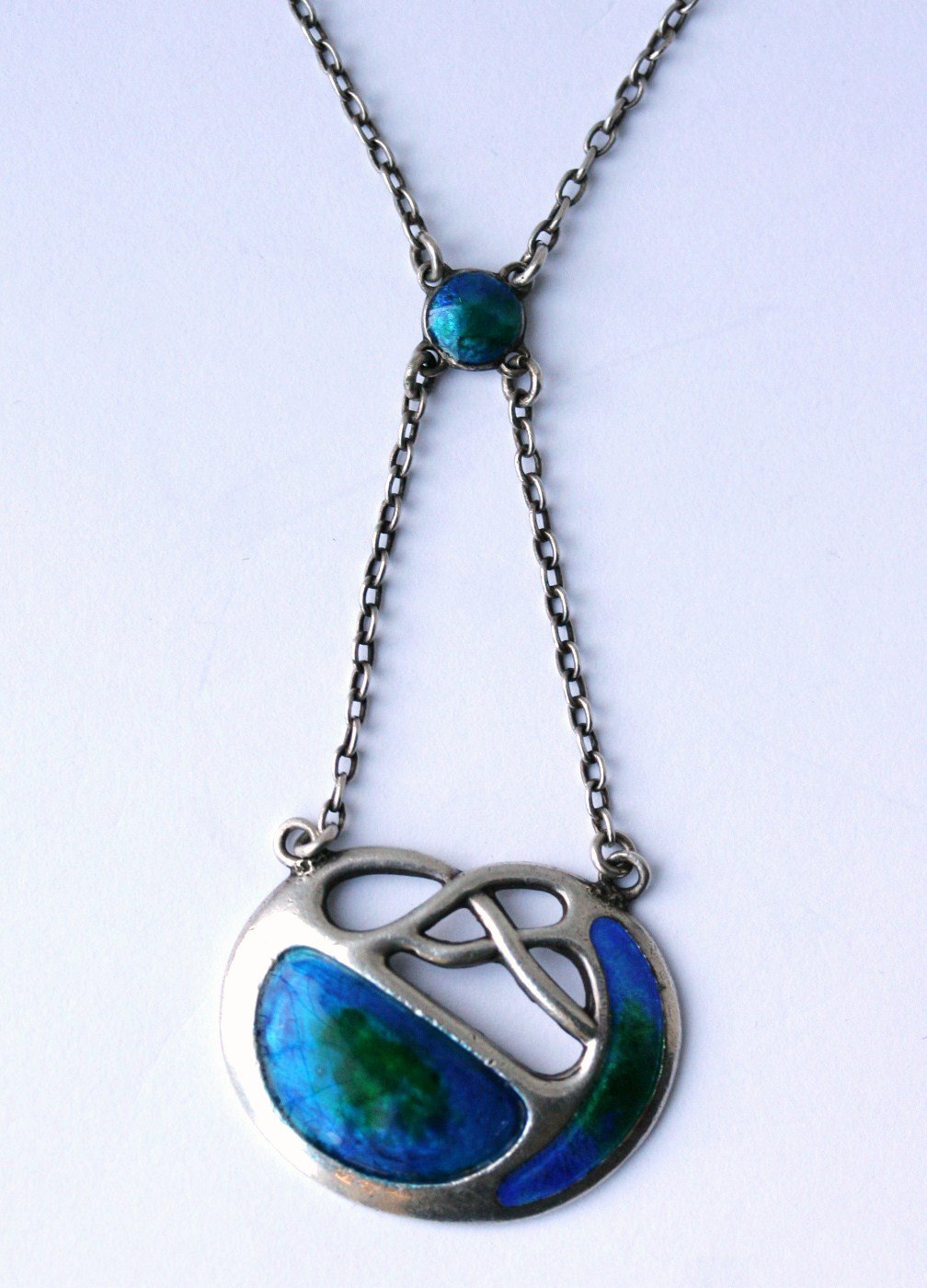 One thing that did catch my eye was an absolutely gorgeous Art Nouveau necklace, which I asked to look at. As the seller took it out of the display case to show it to me, she said it was an original Charles Horner dating from around 1908, and at that point I knew that I wasn't going to be able to afford it.
As we chatted she remarked on the necklace that I was wearing and how pretty it was, and I mentioned that I had bought it for next to nothing. She then said that this one was going to be a little more and the very best price she could do was £220. I winced, and explained that I really just buy stuff on aesthetics and I don't really know anything about anything, and I don't buy to sell on; I buy to wear. She said she totally understood, and that she thought I had a very good eye given the fact I liked this necklace and also given the necklace I was wearing.
I asked if she could write down the name of the creator of the necklace for me, so I could read up on him and if I could possibly take a picture of it to remind me how beautiful it is, so she wrote down the name 'Charles Horner' on her business card and said that there was a picture on her website. Her name is Amita Vetta of Love That Jewellery, and when I got home I visited her website and saw that the necklace is for sale there for £285 so she really was giving me her best price and I appreciate that, and also appreciate the amount of time she spent chatting to me; a thoroughly nice lady. It's just a shame that it was just way outside of my price range. I confess I was really tempted though. I do hope this doesn't turn out to be another of life's little missed opportunities.
A little disheartened, I moved on and eventually came across a necklace that I thought was quite nice, and which the seller said was probably from the 1920's. The best price she could do was £20. I said I'd have a think and come back to her, and continued to wander around. At some point a live male singer began to sing to a backing track (you can see the microphone in the centre of the pic above if you look hard), which was really nice and gave a lovely atmosphere despite the fact we were all in a Sports Hall.
Eventually I finished my tour of the stalls, and I returned to the cheaper necklace and after a little pondering said "ah go on then" to the seller and gave her a £20 note. It was probably a little more than I wanted to pay but I consider it a consolation prize for the fact I couldn't afford the Charles Horner necklace.
After that, it was a drive from Woking to Basingstoke, via Lightwater to the M3, because I had to take that sequin dress back and only had one day left to do so. I made good time despite the M3 being on a 50mph speed limit with Average Speed Cameras due to the extensive roadworks they are doing, and eventually I arrived at Festival Place.
I took the sequin dress back to Top Shop and they gave me a full refund for the £68 I paid for it (I notice it is now £40 in the sales) without any quibble. When the sales girl asked me if there was anything wrong with it I said there wasn't, it just wasn't right for me. She nodded and said that this is always the problem with t-shirt dresses and that she prefers a more fitted waist. I agreed and said that was exactly why I was returning it. So in some ways I felt quite vindicated by her comment. Which was nice.
I wandered round the shops but nothing much caught my eye apart from this awesome pop art canvas of Iron Man. I knew the moment I saw it that I had to have it, and the fact it was only £15 was a bonus. So I bought that and returned to the car to stow it, and then went back down to wander the shops some more.
I came across a very strange thing in one shop. It was one of those pop-up clothes shops that sells all sorts of brands and they had my 'Gold & Grey Mesh Flower Print Dress' that I had bought from Quiz. Only the label didn't say Quiz; it said Stella Morgan. I've done a little detective work on this since, and it seems legitimate – Tesco are also selling it branded as Stella Morgan under their F&F range.
The shop had the Gold & Grey, and also a Black & Blue. My research online has shown that the usual colours are Black & Grey and Gold & Grey, but I can't find the Black & Blue online anywhere, which is a pity as if I'd known that I might have been tempted to buy it despite it being £39.99 as it looked stunning in Black & Blue, but it might work in Black & Grey too. I notice that Tesco have just reduced the Black & Grey to £30 in their online sale so I might buy that as I really do love the Gold & Grey that I have.
I'm still a little confused by the fact that this dress is by Quiz with some sellers (including Amazon) and Stella Morgan with others. Clearly there is some re-branding going on.
Anyway, I didn't find anything else, and decided I was done. But before I went home I took an obligatory selfie because, well, you have to don't you? 🙂
You can see the pic on Flickr (click here), and can see the necklace I was wearing too – the one Amita complimented me on.