Due to buying larger breastforms, I needed to buy some new bras to fit the bigger cup size that they give me.
Naturally my local Marks & Spencer flagship store was my first port of call.
M&S do a vast range of bras, but the ones that caught my eye are in their Post-Surgery Bra range. This range, in association with Breakthrough Breast Cancer Charity, is designed for women who have had mastectomies due to breast cancer and feature, amongst other things, a pocket for a breast prosthesis in each cup. They're also designed to flatter and conceal the fact that you are wearing breast prostheses. And as an added bonus, some of the profits go to charity [1]
It occurred to me that, although this product line is specifically targeted at cancer survivors, they are equally applicable to any woman who uses breast prostheses and that includes us t-girls.
I bought a limited edition twin pack for £16. Both bras are very pretty, extremely comfortable (being cotton), are not underwired (I find underwiring digs into me) and are full cup. As expected, they work very well with my breastforms (well, they would really) and I'm really pleased with them.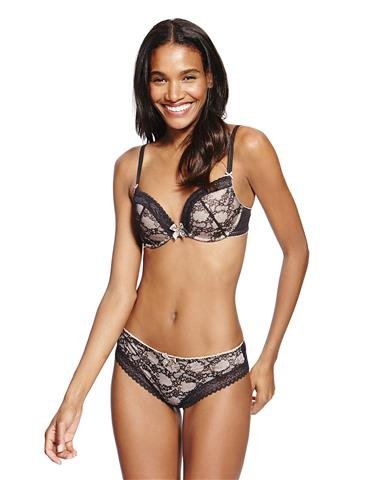 Whilst there I also was tempted by an achingly cute black & pink Plunge Bra set. which I ended up buying. Although the bra is gorgeous, I think I will have to take the set back for a refund because my breastforms look faintly ridiculous spilling out of a plunge bra. Sometimes you just have to face reality, be realistic, and play to your strengths and not your weaknesses. 🙁
So, in summary, I think Marks & Spencer may have an unexpected extra demographic in this range of bras. Certainly I shall be buying more – I could do with a simple black bra, and maybe a nude or white one too. Maybe I will look out for those when I return the plunge bra for a refund.
---
[1] 10% of the retail price is paid to Breakthrough Promotions Ltd, which donates all of its taxable profits to Breakthrough Breast Cancer. So, in other words, a completely indeterminate sum that could actually be pennies. But at least some money goes to charity. Just not the 10% headline figure.