I'm a big fan of the Art Nouveau movement, especially the works of Alfonse Mucha, Charles Rennie Mackintosh, and Charles Horner. I have a number of reproductions of Mucha's works and a few items of jewellery in the style of Mackintosh. Sadly I don't have anything by Horner as even reproductions are expensive.
I love the organic shapes of Art Nouveau, far more than the more minimalistic style of the more popular Art Deco movement that followed it, although that's not to say that I dislike Art Deco; I just don't like it as much as I like Art Nouveau. I do particularly like the Streamline Moderne (aka Art Moderne) movement that evolved from Art Deco, although I think it would be fair to say I am a fan of the whole Raygun Gothic catchall retro-futuristic vibe. But I digress.
In a subsequent post I will show what I have of the above, but it will make this post too long if I do it here and, besides, it deserves a post of its own.
A month or so ago, I learned that I had a missed an exhibition of Alfonse Mucha's work at the Russel-Cotes Art Gallery & Museum in Bournemouth last year but that it was currently running at the Sainsbury Centre for Visual Arts at the University of East Anglia (UEA) until 20th March, so a plan was hatched to visit my best friend Claire in Lowestoft again and for us to attend the exhibition.
So, tickets were booked, time off work was booked, and a hotel was booked. The weeks dragged by somewhat until the weekend we had dubbed "Bestiefest" finally arrived.
I travelled up on Friday morning and the journey was not good. The M3 and M25 were ok, but the two lane M11 was a nightmare with loads of lorries doing elephant racing.
Here's one of those maths questions for you – if a lorry travelling at 60.01 mph overtakes a lorry travelling at 59.99 mph on a two lane carriageway, how many miles of abject misery can they cause for other road users? Answers on a Carrier Pigeon or Stone Tablet please.
In the end it took me just over 4 hours to get to Claire's, having set off around 10am. Although, in fairness, I did stop for 15 mins at a service station for a loo break, and also had a panicked switch from the A14 route to the A11 route because I thought I knew better than Google Navigation. I should learn to welcome my digital overlords, because I was wrong.
It was good to see Claire again, and we spent the afternoon just nattering and catching up. She had to pop out to get the kids from school mid-afternoon, so I took the opportunity to drive over to the hotel to check in, to freshen up, and change.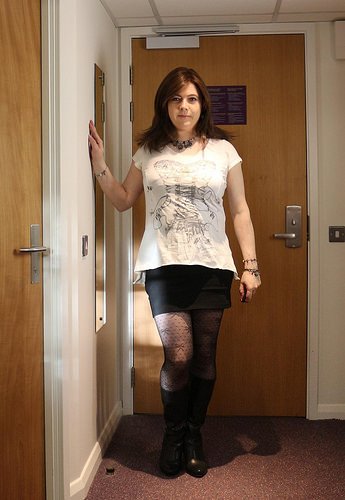 I had decided not to book myself into the same hotel as last time, but to use a Premier Inn. Upon arrival this proved to have been a good choice. Although Premier Inn are quite basic, the price was very keen, and the room turned out to have everything that I needed – a nice comfortable bed, a comfortable chair (a chaise longue, no less!) which also doubled as a place to put my suitcase, a small desk, and a small dressing table with illuminated mirror for doing my makeup. Everything I needed and nothing I didn't need. The only thing lacking was a lift – lugging my suitcase up a flight of stairs was a bit of an inconvenience.
The downside of my choice was that, rather than being 5 mins from Claire I was now 15-20mins but, to be honest, the cost and benefits made that worth it. I just wish I could have the best of both worlds. As always.
It took me a little longer than I anticipated to unpack, freshen up and change, and although we weren't going out that night I probably slightly overdressed but never mind. It was late afternoon before I got back to Claire.
We spent some more time nattering, and I also helped her with the new website for the band that she is in (the band is called ICONIC). She is developing with WordPress and was having a few problems with a few things, and I have some experience there so we were able to work on that together. In fact the rest of the day fairly flew by and I'm not entirely sure that we did a lot more besides that, apart breaking for dinner.
All too soon it was bedtime and I headed back to the hotel where I had a really good night's sleep, which considering that I often suffer from insomnia was a nice bonus.
The next day I got over to Claire's mid-morning, and a little while later we headed over to Norwich for the exhibition. We got there a little ahead of schedule and I spied a large Next store so we popped in there for a browse and a coffee, then headed over to UEA to arrive in time for our "slot" at the exhibition.
I went to university at a non-campus one, so entering the campus of UEA and driving round looking for the SCVA was a slightly new experience for me. In the end we found it, and even managed to find a space in the small car park with free parking that had been set aside for exhibition visitors. In fairness, had we not been able to park there then there were other car parks on-campus, and a free parking permit was available from the front desk of the Centre, but it would have been a little bit of a hassle of back-and-forth to go get one then go back and place it in the car, then back again. It was nice not to have to do that as no permit was required in the reserved car park.
The exhibition was small, but was well presented. There were examples of Mucha's artwork throughout his career and also examples of his sculpture and jewellery on display. In the corner was a television showing a loop of a documentary about him which ran for around 20-30 mins, so we sat and watched that and it was very interesting and I learnt things about Mucha that I did not know. It's made me want to read the book I have on him in more detail as I confess that I had only skimmed it until now.
After we had finished at the exhibition we went down to the gift shop. I very much wanted the weighty 168-page paperback guide that went with the exhibition (£16) and they also had some very good quality mounted reproductions of some of Mucha's art. I have wanted some of these for a while but have been very wary of buying online – when I enquired of one seller on Amazon Marketplace a while back as to the provenance of their pictures they told me that they printed them themselves on an Epson printer on 'high quality paper', so being able to see the quality, and to see that they had been commissioned by the Mucha Foundation, was a big selling point. They weren't cheap, though – £25 for a larger size and £15 for a smaller size. There were also some unmounted posters of A2 size for a more reasonable £12 each. There were also various books on Mucha, including a book of posters whose quality was very good (£12).
In the end, after an awful lot of pondering, I limited myself to one larger print, one medium print, the guide, the poster book, and a poster. This came to a not unsubstantial £80, but I could very easily have spent double that.
Even now I'm not convinced I chose the right prints, particularly Bieres de la Meuse which I already own as a metal sign. I think I should have chosen a different one, and perhaps given in to my desire to buy more of the prints. I justified the decision not to at the time as I rationalised that I could cut out the posters in the poster book and frame them, but now I am not so sure.
It was early afternoon by now so we popped into Norwich for a light lunch and then dropped in on one of Claire's friends who was looking forward to meeting me as she'd heard lots about me. We seemed to get on really well, so that was nice. Then after a little while we headed on back to Claire's.
A little later we popped out for a curry (and a natter, of course. Lots of nattering on this weekend). The portions were really big and at the end of the meal they asked us if we wanted the leftovers to be bagged up. They were so nice about it, and we felt so guilty for leaving really nice food, that we accepted.
By now it was getting late and I headed back to the hotel after. Again, I had a good night's sleep – there must be something about those Premier Inn mattresses after all.
I was a little later getting over to Claire's on Sunday morning as I overslept a little, plus I had to pack up and check out.
We spent much of the day nattering (yet more. I know) and working on the website and the like. Lunch was jacket potatoes plus all the leftover curry and sides from the night before, which was really nice and filling.
By mid afternoon I felt it was time for me to hit the road, not just because I had a long journey but also because I felt that Claire's poor hubby had been somewhat neglected due to me being around so much and taking up so much of Claire's time, and I thought that he would appreciate some time with her. So I left around 3pm.
The journey back was as expected, with the M25 being rather a nightmare. It didn't help that idiot drivers like the one in a white VW Tourag were bullying their way into gaps that weren't there and causing everyone to brake. At times we were reduced to walking pace, then back up to speed again for no reason – almost certainly the "traffic ripple effect". But I got home eventually, about 3hr30 after setting off. That left me with the evening to wind down and prepare myself for the coming week.
And that was my weekend. Not quite as packed as the last time, but very enjoyable and I was very happy.